So its been abit slow but here it goes.....
There was some interest in a trip that was done quite awhile ago and someone decided to go and do the trip again just for a look see.
It was mentioned by Richard that he was going to have a drive on the tuesday and go and have a look at Kindee suspension bridge and head up the mountains behind Wauchope, up into Willi Willi national park and out through Bellangry and back down the mountain so i offered to join him for the run. So we met at Timbertown at 9am in the morning all set and ready to go where me met up with Richard and Kaitlyn (hope thats how u spell it) in his prado and me and the better half Belinda in the colarado. First stop was a quick photo at Long Flat hotel ( too bad it wasnt open ) but it was probably abit early anyway. After a quick photo we then decided to head to Kindee suspension bridge.
This is quite an amazing bridge the way it has been built and how it is still standing is a testament to the ole "build it to last" saying.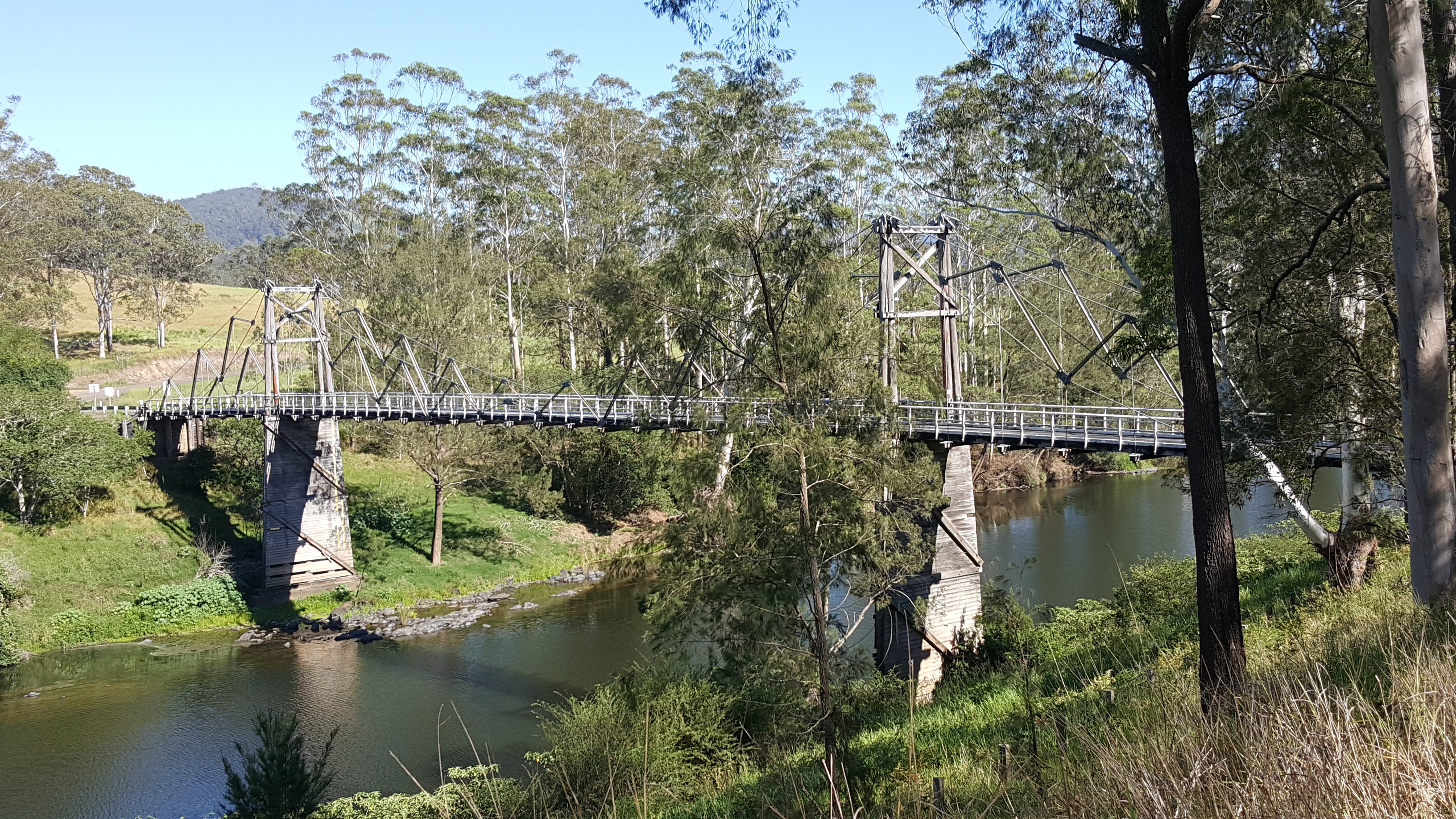 After a walk to the middle for a couple of pics,
we dicided to move on and head to our next turn off. Richard decided to offer us a quick look at Ellensborough camp area, which we did and it was fairly packed with campers but a short stroll down to the river and we could see why. A fantastic swimming spot was to be found and tge water just perfect.
A quick stop here for a look then it was on our way again. We turned off at Forbes River road and it was on the dirt and driving through some farmlands we started to make our way up into the national park.
After a short trip through the farmlands (even an olive grove) we finally got into the actual national park and there we switched our radios over to ch24 as we had passed a logging truck on the way along and thought it was best to keep up if there was a large truck coming our way. We turned off shortley after and went off on another offshoot road that wound its way up the side of the hills. This was a fairly good trail at the start but as we got higher it started to get a bit rougher, nothing major tho.
We travelled for awhile up into the mountains till we got to a track that lead of to the left, to a camp area called Plateua Beech campground which we decided to have a look at but shortly after taking the track there was a tree across it which we decided would take us too long to clear so we left it for national parks and turned around. We got back out on the main track and continued up to a place Richard knew called Brushy Mountain campground which i think he mentioned is at around 1100m in altitude and open all year round. Sounds like a great spot for a camp in the middle of winter to me actually, hopefully camp in the snow.
After a quick stop here we decided to head on down to a spot for lunch at Wilson river but a huge tree had come down across the road about 200m from us returning to the main track.
So we decided to head back to Brushy camp area and have lunch there while picking our next move. Lucky for us Toddy and Richard had been there in october last year and Richard knew of a track (called Rimau rd) that cut across the mountains back to the main road that would still het us to Wilson river bridge for a swim. The track had hardly been driven in a very long time and after coming across a tree across the track which we ended up moving we finally got to the river at around 2:30pm for a well earned swim. The water was great, warm on the top and cool down deeper and for a 40° day was just wonderful. After sitting in the water having a quick beer something grabbed my toe and scared the crap out of me, not to mention the girls. Out of the 4 of us i was bitten twice by some little fresh water eels, didnt hurt was just a little shocking when they did. And the little fish just swim all around you, not caring your invading there swimming hole.
To be continued......