Sheepyard Flat – 9th Annual Victorian Gathering




Channel 25 for camp and general communications
When
Thursday 10th November 2016 to Monday 14th November 2016
Some may arrive earlier and some may stay on longer.
Please Click Here to Register your Attendance

Where
Sheepyard Flat is a large camping area situated on the Howqua River southeast of Mansfield. Entry to Sheepyard Flat is via Howqua Track off the main Mansfield Road and then onto Brocks Road.
The campground has the Howqua River running along one side
4 wheel driving tracks are numerous, and start pretty much as soon as you leave the campground in any direction. Easy access is available to many of the high country huts including Frys, Bluff and the iconic Craig's Hut.
When driving in the campsite area please stick to the marked tracks and travel slowly. There are lots of kids running around and it keeps dust down.
Facilities and Services
- Accessible to camper trailers, caravans and 4 wheel drive vehicles.
- There are pit toilets in the area.
- No dogs
- Water is available for cleaning, showering, portable toilets etc from the Howqua River
- There is no power at the campground.
- Closest LP Gas, Diesel and Petrol is at Mansfield
- Some local radio (AM and FM) is available
- Depending on your phone service provider, some service may be available around camp.
What you need to Bring
- If you are going out on the drives, your own rated recovery equipment.
- All camping equipment required.
- All food and water for cooking and drinking.
- UHF radio for communication while driving.
- Anything else to be self sufficient for the duration of your stay.
All rubbish must be taken out with you.
Please do not dispose of metal containers, glass bottles or plastic in campfires.
Remember, if you can carry it in, you can carry it out.
We would also encourage picking up any rubbish you come across.

Please do not dispose of any rubbish in the pit toilets as this leads to them being closed and unavailable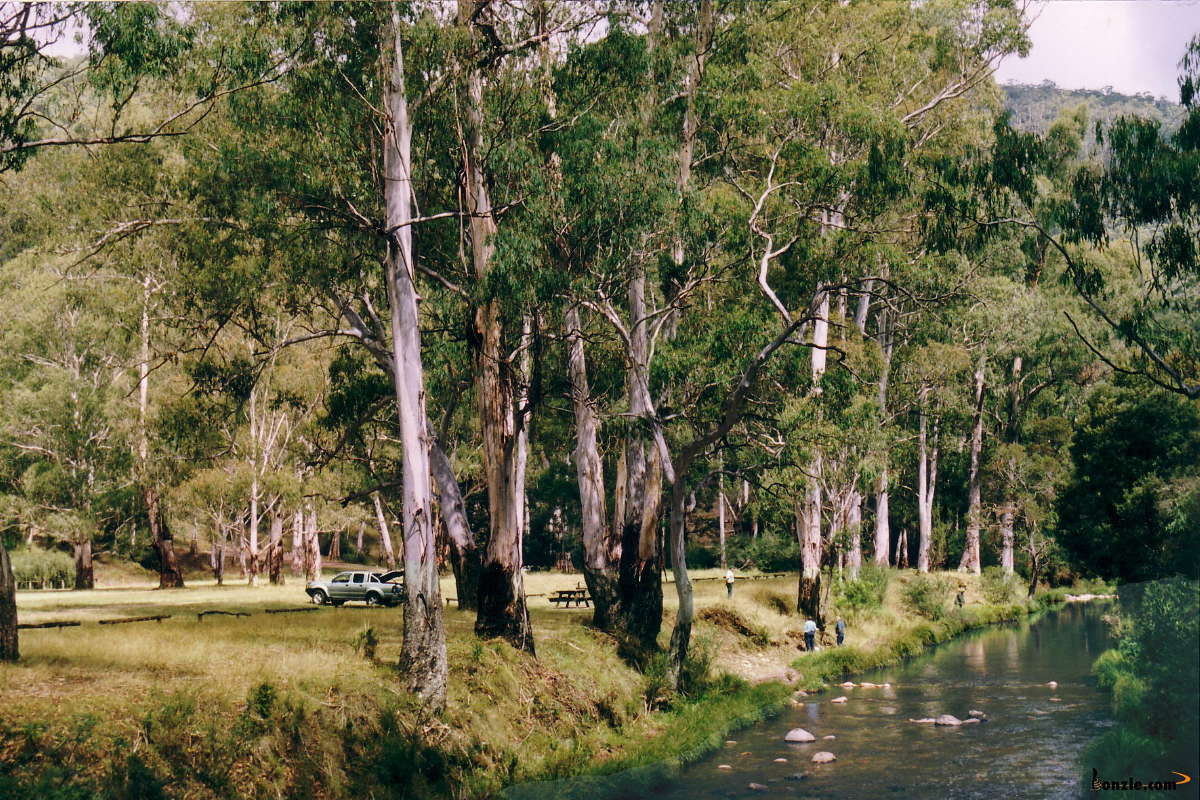 Arrivals
Upon arrival, please make yourself known to one of the committee members. They won't be hard to find, just ask around.

Raffles etc
A raffle will be held over the gathering with prizes drawn on Saturday evening around a central fire or location along with the trophy presentations. So far, the raffle prizes include the following,
Chriso100 (Chris) who runs his own Local Tyre Truck business has, in conjunction with Exclusive Tyre Distributors, secured a new set of 4 Mud Terrain tyres to be one of the great prizes in this years raffle. A huge thanks to Chris for arranging this and a shout out to everyone, if you are looking for anything tyre related, get in contact with Chris through the website www.yourlocaltyretruck.com.au
Prizes (so far)
Pair of Spotlights from Fyrlyt

Set of mud tyres from Your Local Tyre Truck and Federal Tyres

A Top of Down Under prize pack including DVD series, stubby holders etc

A $500 voucher from Wholesale Automatics to be used either towards an Auto Transmission or for service of your current transmission.

A Stihl Chainsaw thanks to both Frankston and Berwick Stihl Shops

An Ultravision light bar valued at almost $500 from Matt at Going Off Road (GOR)

Lights to the value of approximately $400, an $89 light bar mount and a $42 number plate flip bracket from Uneek 4x4

4WD Supplies have donated a Windbooster Throttle Control unit valued at $300

Pro4X4 have donated a Darche Biker Swag, Mean Mother Pocket Chainsaw and a Dobinsons Recovery Kit

NUTS4x4 are donating an OzTrail Swag Bag, an Outer Limits minus 10 degrees Sleeping Bag and an Oztrail Winch Strap Drying Bag
6 - 16/28 Melverton Drive Hallam 03 9708 6615
Raffle tickets will be sold from about Tuesday or Wednesday onwards until the raffle is drawn on Saturday evening. Raffle tickets will be limited to those who attend the gathering, as some of the larger prizes and trophies can be expensive to send. It is also good to present them to someone at the time. Sorry if this upsets anyone, it is not the intention.
Donations, Local Charities and Giving Back to the Local Area
All money raised from raffles, the duck race and other events goes back into the local area.
To date, we have donated over $4000 back into several local communities
. A list is shown below. A huge thanks to everyone who has contributed with either donations or from buying raffle tickets, ducks, stubby holders, stickers and other 4x4 Earth gear. The local areas are thankful for the input we can provide into their communities. This is on top of the increased business we offer them with normally over 50 vehicles and in excess of 150 people.
- Dargo CFA $250.00
- Dargo Historical Society $200.00
- Jamieson 150th Centenary Celebration Committee $490.00
- Jamieson CFA $280.00
- Dargo Bush Nursing Association $653.00
- Rent of the Communications Tower in Dargo to provide TV reception $200.00
- Rawson Wildlife Rescue Centre $650.00
- Erica Kindergarten $780.00
- Aberfeldy Tracks Project $680.00
Donations from the 9th Victorian Annual Gathering at Sheepyard Flat 2016 will also be going back into the local area.
This will be decided upon closer to the event.
Sticker Competition
A sticker competition has been run again this year. 14 entries have been submitted and these will be judged to determine a winner.
The winning entry will have copies printed and available for sale at the gathering will all money raised again going to charity.
The winning designer also receives a recognition and a prize
Thanks to all those who entered this year.
Sheepyard Flat Events - 2016
- Several 4WD runs ranging from beginner and easy through intermediate to hard.
- A Geocaching (Caching) challenge will take place over the duration of the gathering. The caches will be
existing caches in the area and instructions will be posted here prior to the commencement of the trip.
- A camp oven cook off will be taking place in the period leading up to the Saturday night
- The 'Duck Race' will be back on Saturday evening at 5:00 PM bigger and better than ever.
- There will be 100 ducks up for sale with all money going to a local charity.
- Ducks will be made available for sale for $2.00 each from Saturday afternoon
- Trophy presentations will take place on the Saturday evening.
Trophies
The trophies are all engraved with last years winners and the Duck Race 2016 trophy is ready for the big event.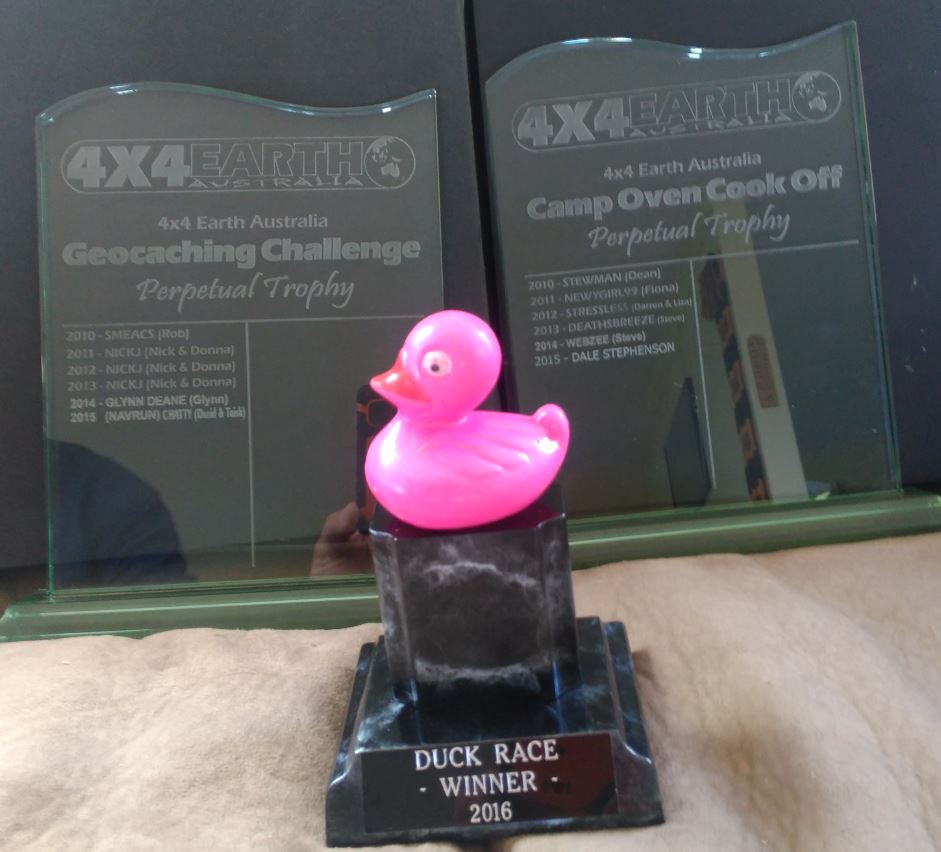 Kids
All kids will receive a 'show bag' containing things like a colouring book, coloured pencils, a lolly bag, bubble maker / mix and some other stuf
f.
There will also be some kids activities occurring across the gathering

Geocaching Challenge
This year we are going back to a Geocaching Challenge after running a Navigation event lat year at O'Tooles.
2016 Geocaching Instructions -
Click Here
To enter the Caching Competition, print the Entry Form linked below and return it to one of the Event Organisers before 4:00 PM on Saturday. Hard copy entry forms will also be available at Sheepyard from Tuesday PM onwards.
Entry Form - Click Here
Trophies

There will be trophies for the following :
1. Camp Oven Cook Off
2. Duck Race Winner
3. Geocaching Challenge Winner
Warnings
- Howqua River runs along the side of the camp and care needs to be taken with children.
- There are old mining shafts in the area. Please be careful when walking through the bush.
- The DEWLP has warned that camping under trees can be dangerous due to falling branches.
Local Area Attractions and Places of Interest

- Horse and Trail Rides in Merrijig
- Merrijig Information - Tourism Victoria
- Mansfield and Merrijig - Things to Do
- Mount Buller and Mansfield Attractions
- Mansfield Attractions
- Mansfield Zoo
Miscellaneous
Because the organised drives will be in groups, we request that everyone taking part read through the convoy procedures
which can be accessed here
Convoy Procedures
Please do not leave any campfire unattended.
Please do not drag logs with straps or chains through the campsite.
Hints, Tips and Advice
Please have a look at this list. It covers some general stuff, some changes to road rules and some warnings or cautions about the Sheepyard Flat campground and surrounding areas.
Click Here for Hints, Tips and Advice

Sheepyard 2016 Evacuation Procedure
Daytrips and Drives
The list below shows the daytrips and drives that have been arranged so far. If you are interested in leading a drive, please contact me. If you with to go on any of these trips, please make contact with the Trip Leader once you are at Sheepyard.
Additional drives will be taking place, so not all are listed on the list below.
Attendance and Registration
Please Click Here to Register your Attendance
Confirmed Attending (Registration Form Submitted)

Last edited by a moderator: