Hello everyone,
Let me introduce myself, my names Santa, well, I'm really one of Santa's little helpers. Each year a group of us are sent around the world to different countries (to do the ground work so to speak) for the "Big" Santa's big night (Xmas Eve). We check out who has been good, confirm whose living where and basically make sure everything will run well on the night.
You must have at times wondered how Santa can get to every ones house on the one night, making sure all the little kiddies (and the big ones) get the presents they wished for, well that's where we fit in. Remember that us Santa's have special powers so we can appear and disappear at will, as we don't want to be discovered doing our very important work. Xmas night is quite a logistical nightmare, but Santa always gets it right. Thanks to his little helpers.
This year along with some of my "Prop Daddle Toffs" or as you say in your language, mates; I was lucky enough to be selected to go to Australia, my first trip there. In our particular group, each one of us was given a different area of your country to visit. I was given a brief that would take me to some of your out of the way or remote places, as well as a few of your better known ones.
So as I settle back here in the North Pole in front of a lovely fire, I thought I would share with you some of what I saw. So with an open mind, join me on what was an amazing trip.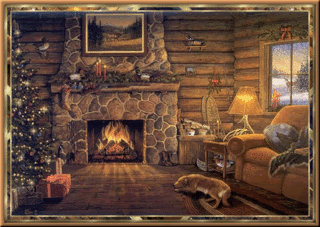 I started my work near the foothills of your Alpine region on the banks of a river called the Murray. There are a number of families that spend this time of year away from their homes and camp beside this rather impressive River.
The Murray River starts in a swampy area high in the Australian Alps where two creeks converge near a mount called Forest Hill, and ends after flowing into Lake Alexandrina at the Coorong SA. and then finally into the sea. It travels a distance of 2375 kilometres.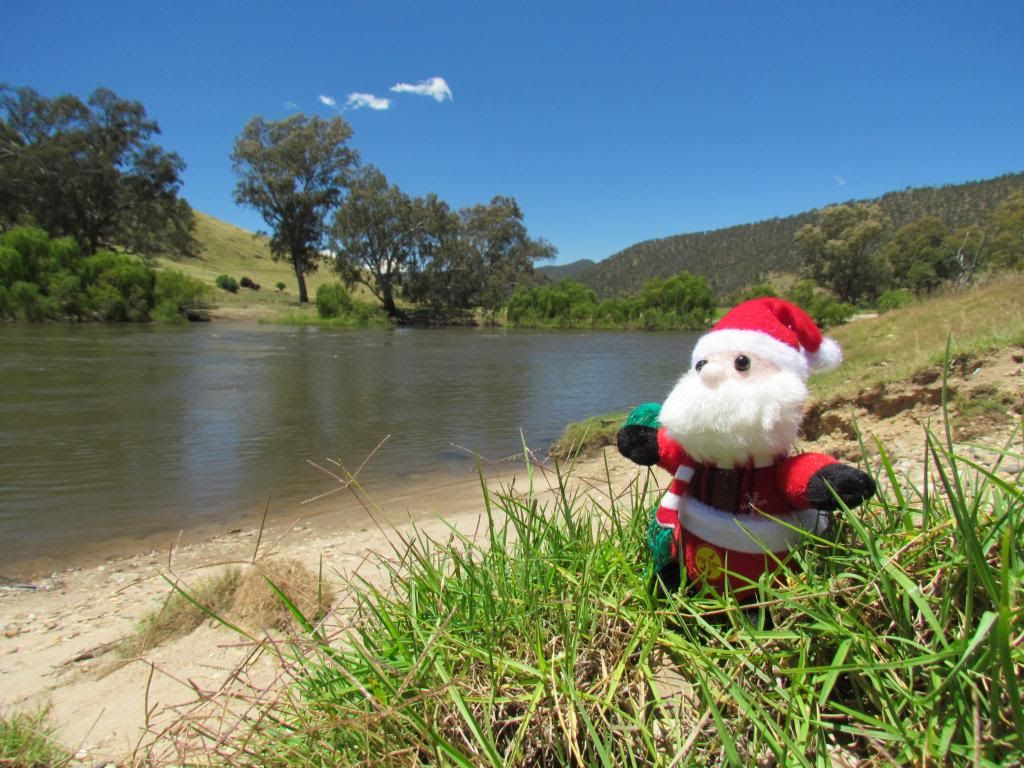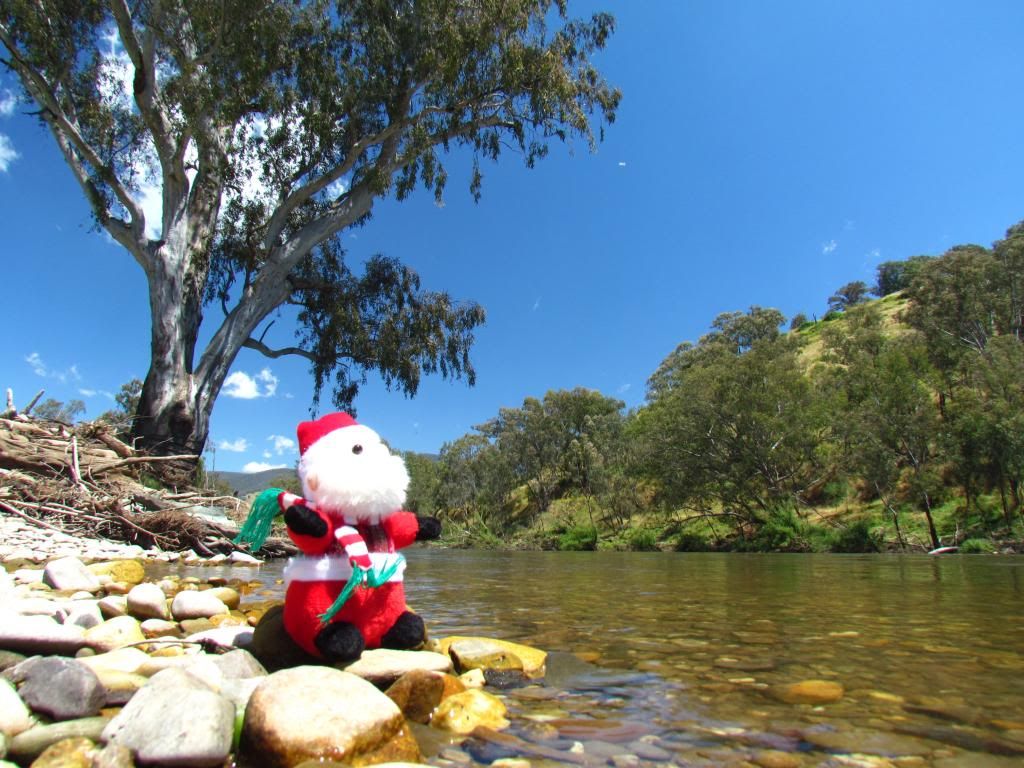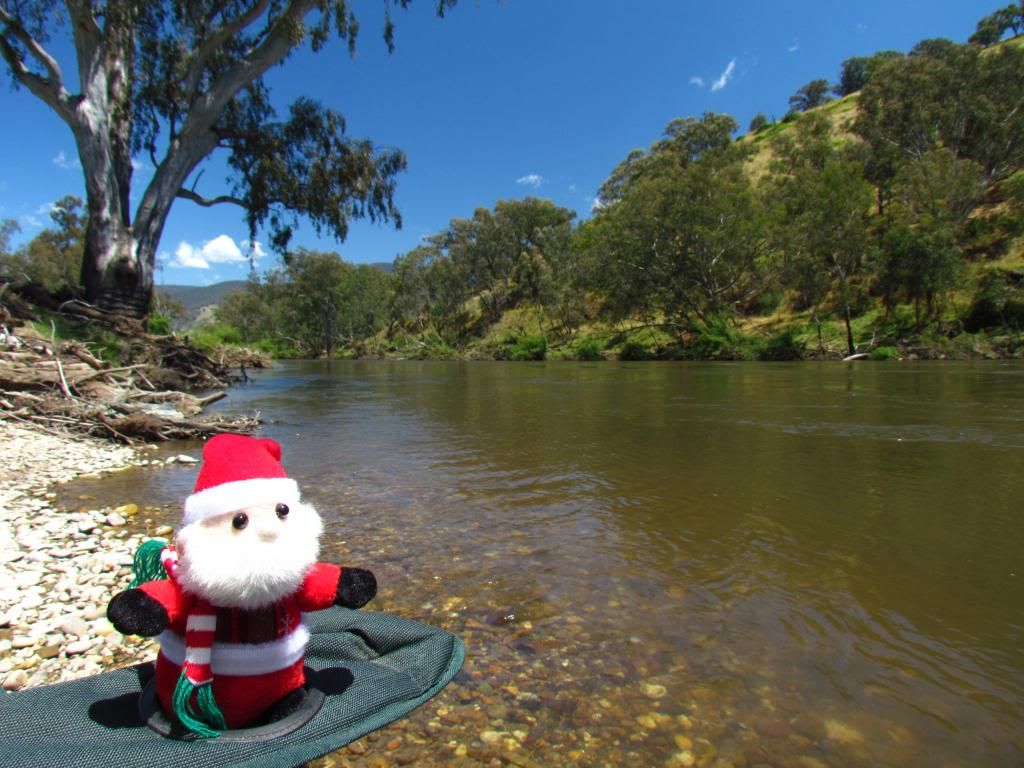 When I left for Australia, I was told of a number of places to look out for, and one place I was particularly looking forward to seeing was the Great Ocean Road, in a quaint little state called Victoria, I was very impressed. This particular road was first built between 1919 and 1932, In fact I'm reliably told that this road is the World's largest War memorial dedicated to the men and women, who paid the ultimate sacrifice serving their country, in WW1. As I said previously, very impressive.
The next photo shows me at Lorne, a lovely little town situated right on the coast along the Great Ocean Road, where holiday makers enjoy a dip in the warm and tranquil waters of Australia's Southern Ocean (Bass Straight). (Remember my home is the North Pole!) any waters without Icebergs, is to me bordering on warm or even tropical.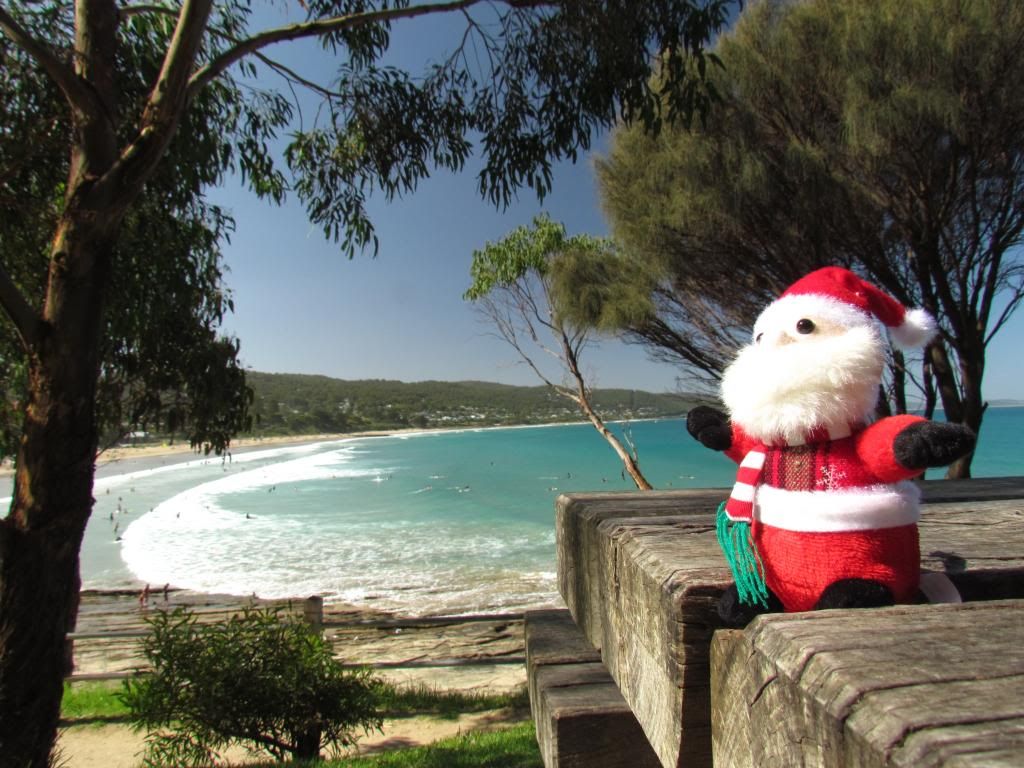 As I explored the area I had to visit this particular spot, as I was enthralled by the name. Now I'm not a Teddy (I'm a Santa) but I still had to as you Aussies say "check it out". And what a view it had.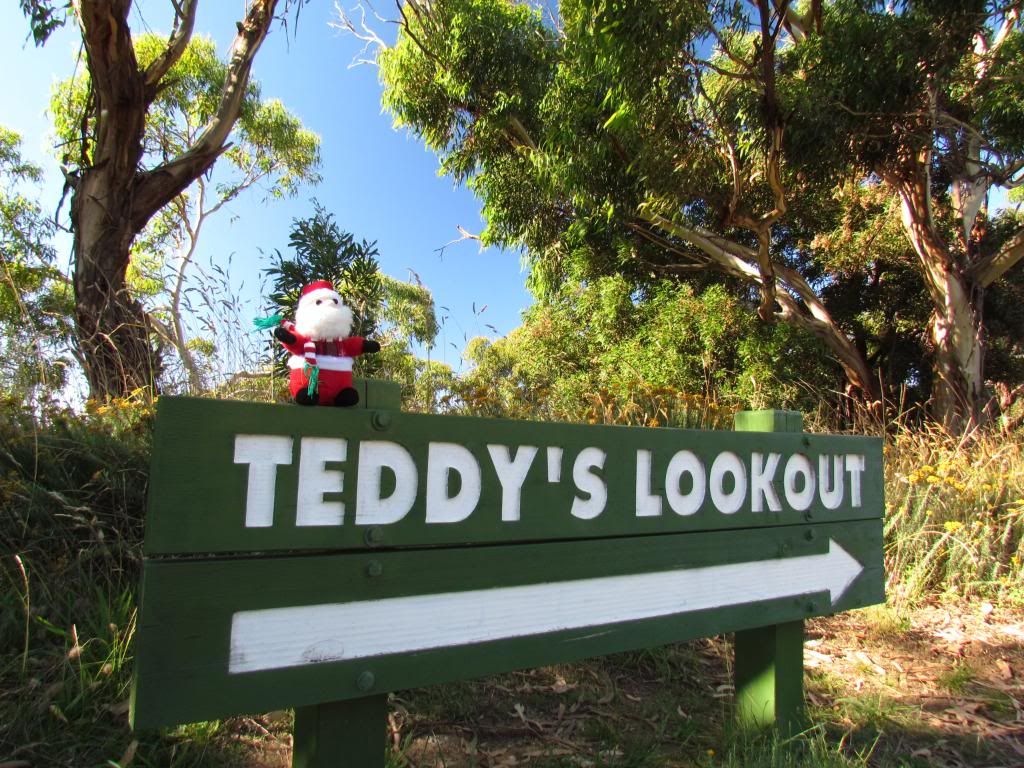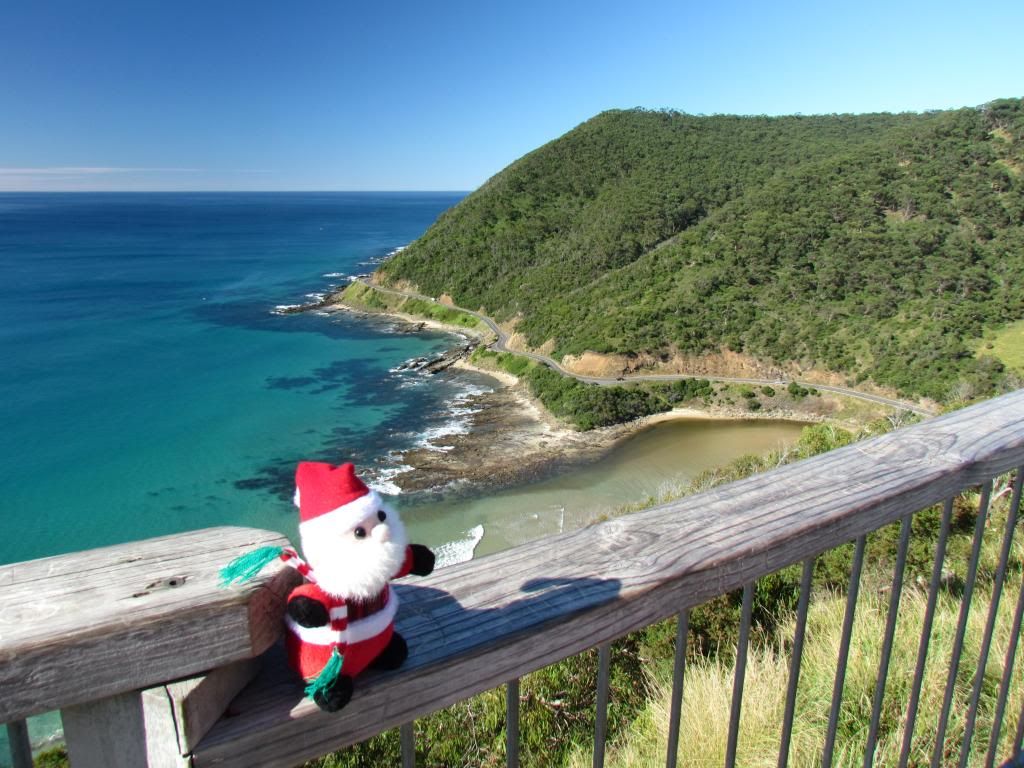 I next popped into a remote Lighthouse along the southern coast. We can't forget those who are away from the mainstream of society, as they deserve to wake up to the magic of Xmas as well. Here we are at the Point Hicks Lighthouse at the place where your great country, or the mainland part anyway, was first sighted by a certain chap called Captain James Cook. (Actually it was one of his men, Zachariah Hicks who first sighted your mainland).
It was a very tall lighthouse which dwarfed me as I made my way around its base.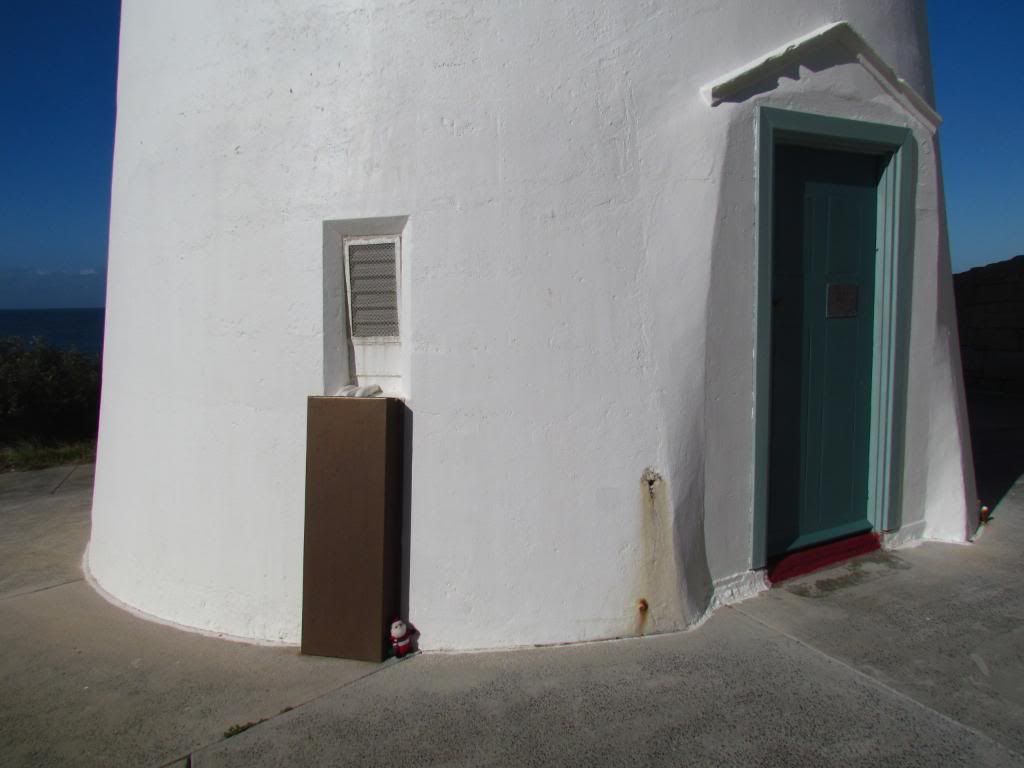 At times I found traversing your great country quite difficult, as it's "SO BIG" My little legs found it difficult negotiating some parts of it.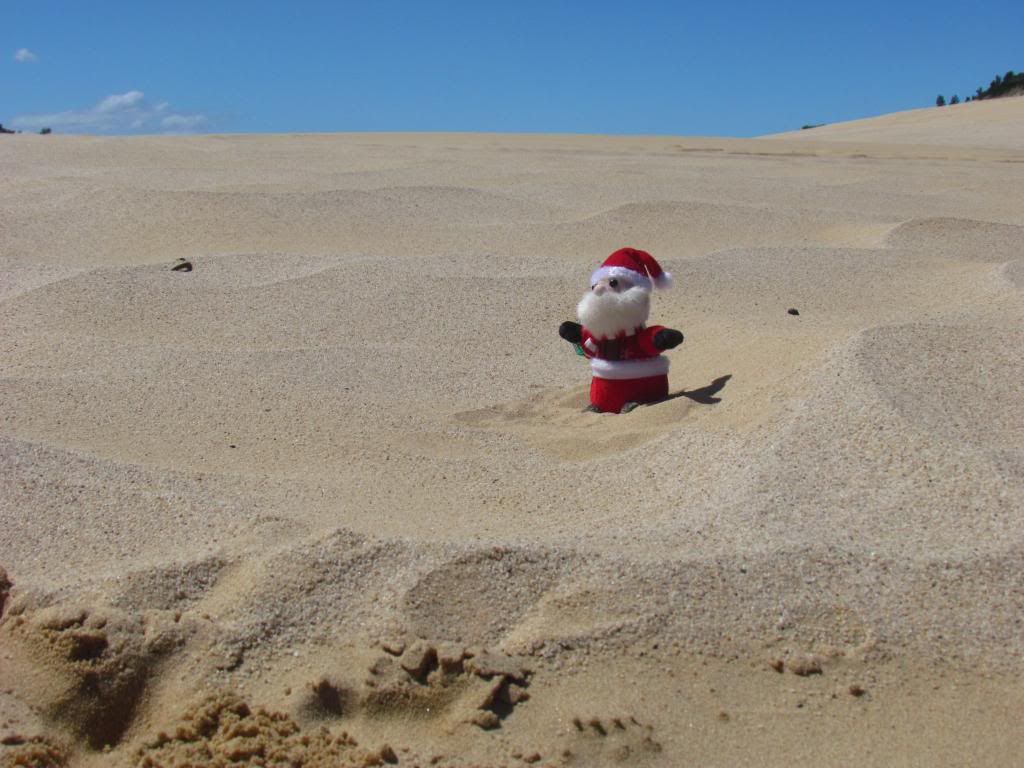 Around Easter time I had been hard at it for some months, so I took some R & R by a lovely River in southern NSW. Here I tried to prepare myself for the next part of my journey. My good friend the Easter Bunny dropped by, paid his respects and then continued on with his rounds. Now you know why I'm this portly shape!
As summer slowly turned into Fall or as you Aussies call it, Autumn, the colours of the landscape was something I'll remember for a long time. The colours of my homeland are white, with more white. Our national Flag is white; you probably have never seen it as a white flag against a white background just doesn't stand out that much!
I was nearly trodden on this day as the colours of the fallen leaves matched my uniform, not that there was much I could do about it. Our OH&S representative suggested a fluro green or bright yellow Santa Suit for us to wear but what a kafuffle that would create!! A "Fluro" Santa, no way I say!
Well it came the time to leave the more civilised parts of your country and head into what you call "The Outback". It was these less populated areas that I was specifically told to visit.
On my way I passed through the Flinders Ranges.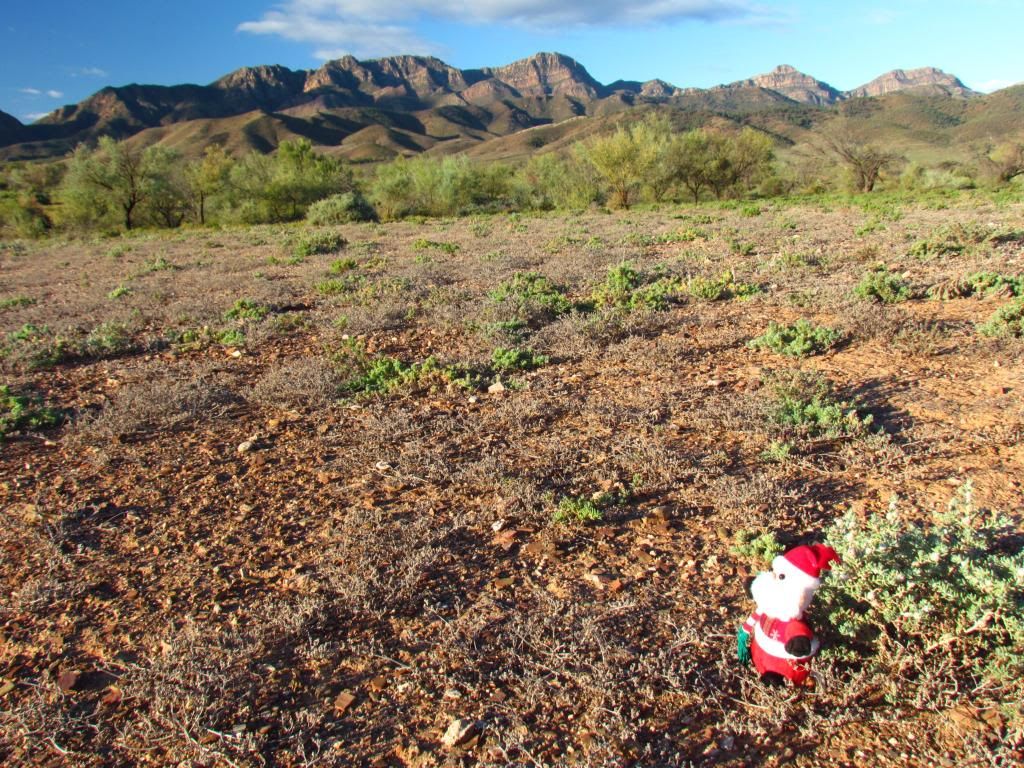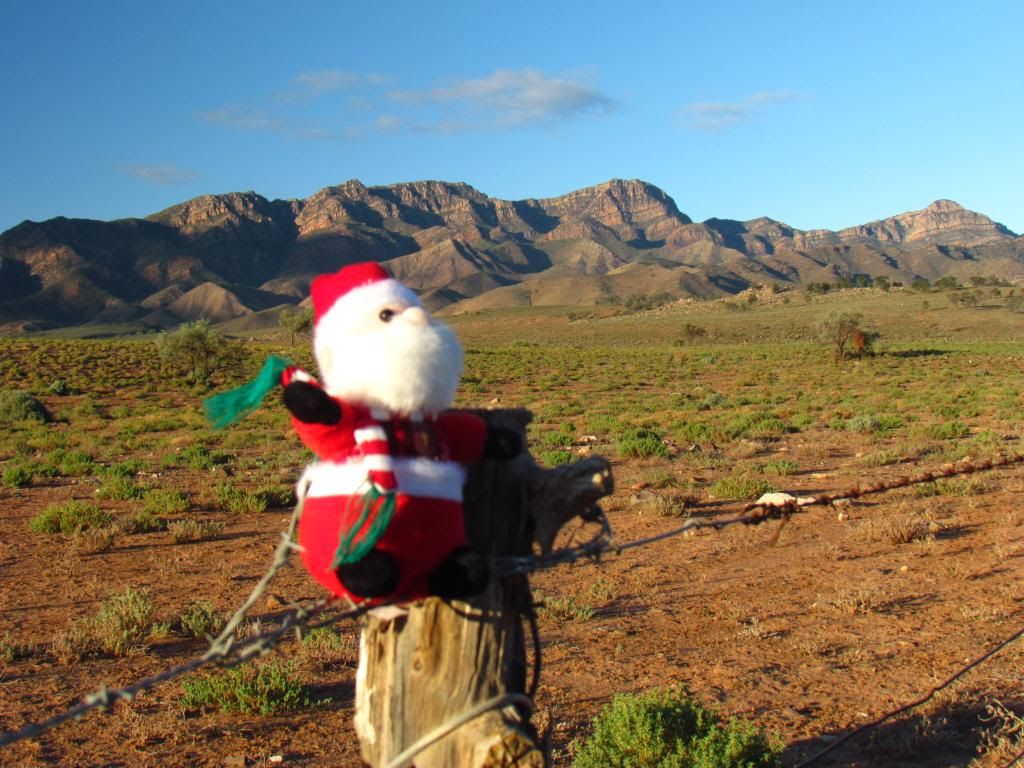 At a place called Woomera there were heaps of rockets and things but I was told to go even more remote.
These signs may not mean much to my fellow helpers back here in the North Pole, but if I was ever questioned about just how remote I actually went, and how hard I tried to do my job, I would explain to them just where these signs were!