March lwe 9th ,10th ,11th.
Location: Terowie ,home of the krazy kreekbeds.
Price : $70 per vehicle for friday to monday.
Terowie is a privately owned 4wd /livestock grazing property located in the mid nth of SA. It's approx 230kms nth of Adelaide, 265kms wnw of Renmark and 300kms wsw of Broken hill. Access to the property is via reasonably decent dirt roads so tyre pressures should be adjusted accordingly.
The 4wding comprises a combination of rocky creekbeds ranging in difficulty from moderately easy to difficult, a touring track that runs around part of the property boundary incorporating some steep loose hill climbs and descents offering some great views of the area. The fish bowl is a flex area created in some deep erosion gullies for those who don't wish to test their suspension in the creeks.
There are basic fascilities on the property including flushing toilets but no showers as yet, but looking to be added down the track.
You will need to supply all your own food and drinking water plus is advisable to bring your own loo paper and whatever else you feel required for 3-4 days to be self sufficient.
Camping is quite good with shady trees and is suitable for tents and swags . Caravans and camper trailers can aslo make it to the camp grounds with a little care required for the vans on the main entry track once on the property. Camp fires are allowed but we need to supply our own wood.
A good set of all terrain tyres would be the bare minimum for the driving on this property, a 2" suspension lift would also be worth while but in saying that we have managed to get standard vehicles thru the harder creekbeds in the past with a few experienced spotters helping them thru. A uhf either hand held or vehicle mounted will also be required. Whilst we have never really needed recovery equipment at this place it's always handy to have some on board just incase, needless to say it should all be rated along with your recovery points.
On a side note, the nearest alcoholic beverage establishment is around 30kms away so be sure to pack enough should you wish to indulge in the odd one or two of an evaning around the fire.
Sooo if you would like to come along and help us celebrate our 8th annual meet, experience some great SA 4wding and enjoy some fantastic socializing with the opportunity to meet fellow members then feel free to express your interest on this thread.
One last requirement is that all fee's need to be paid in cash as their are no card fascilities on the property.
Attendees
1. 80 lover SA.
2. Discomatt VIC.
3. Prado Dave SA.
4. Bomber VIC.
5. Green Tanks mate.
6. Green Tank SA.
7. MacManLuke SA
8. Outrage VIC.
9. Micko74 SA.
10.Nightscale SA.
11. Markb SA.
12. Nightscale SA.
13. Silkwood SA.
14. Green Tank SA. Meet at 12.30.
15. Mills63 SA.
16.Disco blues SA.
17. Cruiser Gav SA.
18. Big Trev SA.
19. Greenmav SA.
20.JP147 SA.
Most Probable.
1.SA bravo SA.
2. Chatty SA.
.
Possibles
1.Nav 54's son SA.
2.Navigator 54 SA.
4.Chard SA.
5. Big block Rick SA.
6. Jz0m64 SA.
Convoy Details
Early convoy
Departs Roseworthy 10am
Arrive Terowie 12.30
On property 1pm ish.
Convoy Leader.
80 lover - Brian
Mills63
Disco blues
Prado Dave.
Evening convoy
Depart Roseworthy 6.30pm sharp.
Arrive Terowie 9pm
On property 9.30pm
Convoy Leader.
Greenmav - Andrew
JP147.
Fuel at Terowie is usually available from 7am to 8.30pm . Last reliable fuel for Friday night will be Roseworthy so stock up for the weekend folks.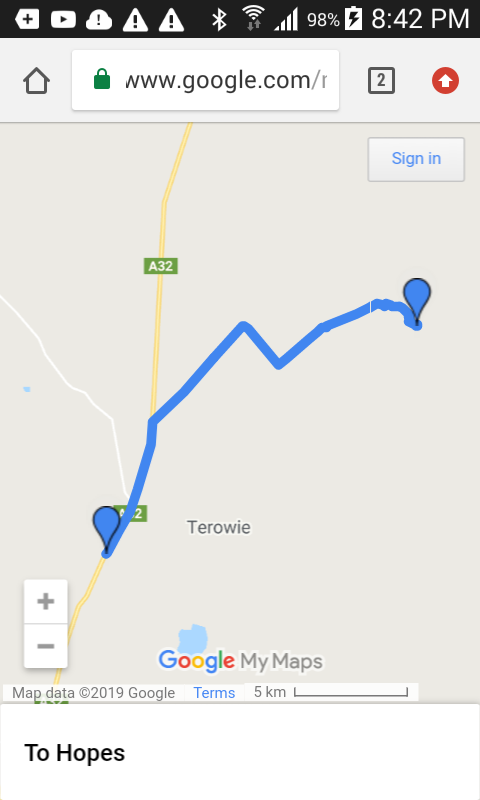 http://www.terowie4wdpark.com/5-directions/
Terowie is located on the Barrier hwy. The turn iff you'll need to take is approx 5km nth of the BP servo. Take stock route rd, right turn at wood cutters rd then left at the T intersection onto hopes gully rd and follow to property gates.
Once turned off the Barrier hwy it's all dirt rd.
Last edited: