Today i replaced my passenger CV shaft after my failure in the high country and then failure of the replacement aftermarket shaft soon after.
Job in theory is easy and shouldn't take to long.
- Drained the diff (not totally needed, but my old was of unknown quality after the ordeal)
- Loosen the shaft nut
- remove the wheel
- remove brake calliper and brake hose brackets, secured with wire.
- remove bolts holding ABS cable to free up extra cable.
- undo tie rod end
- undo upper control arm ball joint (easy in my case with a uni ball but not too hard with factory ball joint)
- tap shaft out of hub and then pull out from the diff
This is where my trouble started, the outer CV fell apart as soon as i pushed it out the hub.
Later removed the booted, investigated and found the crappy retaining clip had fallen off.
Then attempting to remove the shaft from the diff first by gentle levering as all that should be required but it wouldn't budge. Proceeded to use bigger levers and even resorted to hitting the pry bar with large hammer. No luck.
Struggled with it for about 4 hours!
Search the net for ideas and i came across someone else in a similar situation and they made a tool with a slide hammer and vice grips - quick trip to super cheap, fire up the welder and i ended up with these:
I undid the boot from the CV and grabbed the outer shell with the vice grips
and worked it. Rotated it a few times and finally it came.
Massive relief!
Proceeded to take a bunch of photos comparing my new OEM shaft to the aftermarket unit
and i really can't believe 1) someone could make and sell such garbage 2) mechanic would even install it, soon as i looked at it i could tell it was rubbish and there is no way i would have installed it.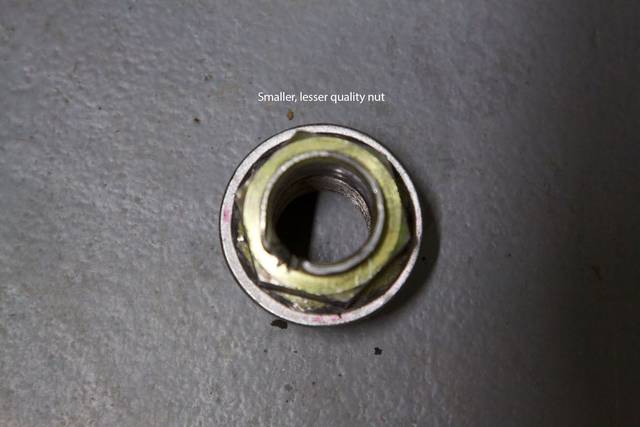 Proceeded to remove the oil seal as it had been weeping after the previous repair (and just good practice while its apart)
Tapped the seal in with perfect sized piece of pipe
Didn't get a photo of the new seal installed as it was getting late.
New shaft back in, popped into the diff sweet as - much easier than the beating it took the mechanics in Heyfield to get the aftermarket shaft back in.
All back together, diff topped up, everything degreased and back on the road in about 1hr after getting the old shaft out.
Confident i could carry the tools and do one on the side of the track now (well with factory shafts it should be much quicker and easier)
Going to do the drivers side as well but that can wait for another weekend.
Going to get in contact with the mechanic from Mansfield this week and hopefully get at least a refund on the shaft.
Parts and specific tools needed:
Driveshafts
Oil seal
New shaft nuts (single use)
35mm socket for ford shaft nuts
36mm socket for aftermarket nut ($22 socket for one use
)
? ratchet for diff drain and fill plugs (square drive...)
½ socket set and assorted spanners etc
Last edited: