Most likely also suit PJ (3.0TD model).
4 steel stock size 15" rims and good Toyo Open Country AT tyres
235/75.
Twin extra short valves for TPMS, so no removing sensors to air up / down.
Painted dark grey eurethane 2K to match PK wheel arch flares.
7mm to 8mm tread depth, in great condition with even wear.
The best AT tyre I've ever drive on for sure, many more km in these.
(Also included, a couple of Khumo AT51 carcasses, suitable for desert spares, 6mm tread.)
Asking $450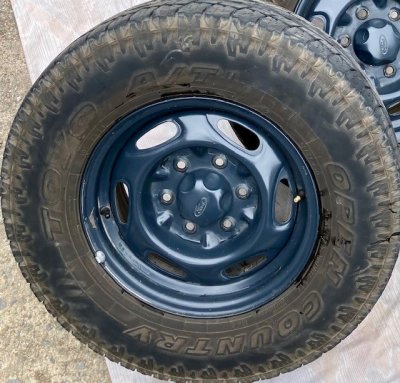 PK MAF sensor, OBD2 MAF relearn dongle, OBD2 double adapter cable
** MAF SENSOR SOLD **
MAF relearn dongle $25
OBD2 double adapter $15
2 OEM CV complete shafts, left / right
. . . bought new ones when I thought I blew a right hand one, turned out the be a transfer case output shaft (ouch !).
Anyway, mech torn a boot taking one out, so just needs one replaced when fitting, the OEM ones are strong (obviously), or the TC output shafts are weak as !
They're in boxes out in the shed, can take photos if anyone wants to see them.
Asking $100 for the pair.
Radiator for auto (or manual) Ford OEM
$100.
Also in a box, can take pics if you like . . . replaced thinking a mild overheating problem was the radiator, when it was the water pump.
Will throw in new top & bottom radiator hoses I had spares for longer outback trips.
Thanks, any question by PM or here in the thread.
Last edited: