..
Still have the Ranger, and no plans to get rid of it, and while I feel a bit, I dunno, unfaithful to it, I just picked up a great little project vehicle to keep me out of trouble.
Mate Gunthers old Pajero, model etc as per thread title.
It's a sad story of my old mate, see
Vale Mr Pajeroo
Gunther owned this vehicle for about 24 years, so a part of him is in it for sure.
Some facts about the vehicle :
3.0lt fuel injected V6 petrol
105kW (141 hp) and 228nm
5 speed manual
Three-link coil rear live axle, front IFS, think it's torsions, gotta get under there sometime for a look
They had the first LSD's in the models, supposed to be a very good tight one too.
2nd last of the gen 1 Pajeros (last one the NG was a facelift on trim only), with chrome wheels, suspension seats for driver and front pax, and it has what the referred to as the high end model, with an inclinometer, volt meter, oil pressure gauge, stereo cassette player (upgraded by mate during his time), remote fuel filler release, suspension driver's seat, carpeting, tweed and velour cloth trim.
I think there's even some cup holders in it somewhere !!
It's got 261807km on the clock, not bad for 27-1/2 years, about 9500km a year.
The motor seems very tight, responds well, have to go through some testing to gauge economy it gets etc.
It has a factory 92lt tank.
So, I have some ideas for it.
There is basically no rust, very few dents (hey, I'm a dent man anyway !), and I plan to give the old bus some different paint, kinda make it a totally original vehicle.
We'll see how mechs go, but I'm not adverse if keeping it a few years to a decent fitout for short touring / beach work, and maybe a V8 if the V6 spits the dummy ever.
The gen 1's had full solid ladder chassis, nice and strong too.
Ok, some pics . . .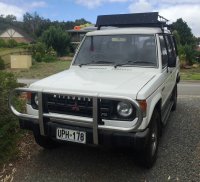 Basically as picked up today, probably some dust from trips, loads of crap all through it and all
It was unregoed for some time, just had to go in yesterday and do a form, rerego in new name, very simple.
Started first go, looks like the old bus has plenty of life and very reliable.
Well, I know it's pretty good as it came across the Simmo with us west - east back in April 2014.
Will do updates as things move along.
One of the first jobs will be get the original purply looking old film off the 13 (!!) panes of glass it is applied to, gawd . . .
Quarter windows will be interesting to have again