So we are off again, this time to the Gulf with a bunch of people from the MySwag.org Camper trailer forum.
First stop Tarriano Res Narrabri, the river was up this trip from all the rain they have been getting.
Tarriaro Res Narrabri
From here was Taroom and Chain Lagoons.
Taroom was one of the stops for Leichhardt
Chains Lagoon, is about 8k out of Taroom, it's a favourite stop for grey nomads, it actually had water in it this year
From here it was off to Theresa Creek Dam near Clermont via the Fitzroy Develempmental Rd, just a wonderfull scenic drive to Theresa Creek Dam.
Our camp at the dam
From here we were initially going to stay at Fletchers Creek, but after getting there about 1.00pm and it being so hot 38c, we decided to push on to Undarra and spend 2 nights there, where Yogi and Boo Boo the first members of the group were staying Yogi Andrew had a beer waiting for me at Undarra
It was hot, but it was a pretty good spot, Andrew also had dinner cooking when we arrived and invited us to join them, from this point on we were inseprable, doing most thing together for the whole trip.
Had a tour through the tubes
After 2 great night at Undarra, getting to know Andrew and Amanda, it was off to meet the next few members of the group, along the way we went via Einasliegh and Copperfield Gorge and Georgetown, collecting firewood along the way
We arrived at Gilbert River early, not the best place to camp, but we made the best of it, after a while Jcclures(John and Bonnie), bjf (Brett and Janelle), Blackcat (Jo & Gordon) and Janineandandy(Andy and Janine) arrived and set up, we spent the night, before heading off to meet more of the group, Gilbert River wasn't a very good campsite, so no pics from there.
After Gilbert River us and the group headed for Karumba where we were to spend 3 nights at the Sunset van park, here we met Estelle (Chris and John)
At Karumba we did some sightseeing of the town AND the Crab and Croc tour and sunset cruise, Mark and Fiona are great people, I highly recommend this tour if you go to Karumba as well as the Barramundi Discovery tour, we also recommend diner at the pub at Karumba point a 2min walk from the park.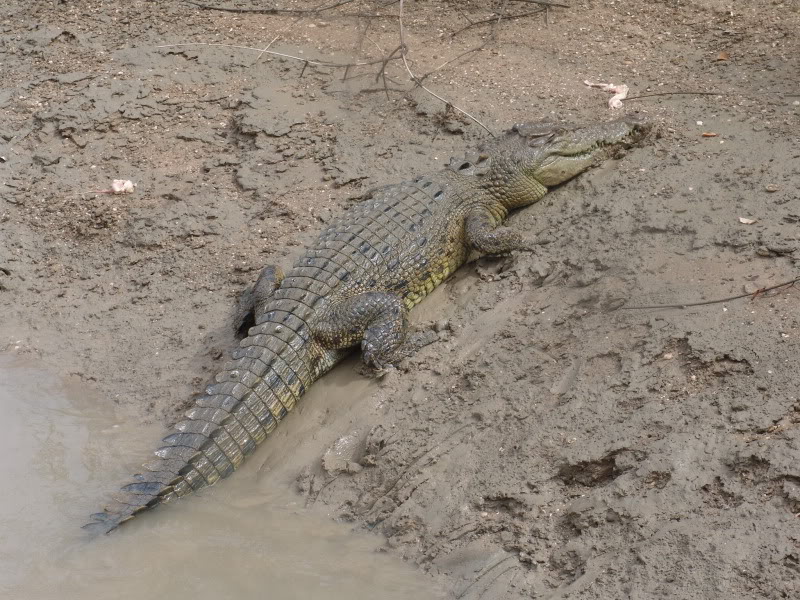 We had a great time at Karumba, Andrew and I also did some fishing, well I should say we fed the fish there
From here we headed for Adels Grove for 3 nights, via Normanton to meet the last members of the group, McGirr (Mark and Sue) Paul and Bern.
We caught up with the rest of the group the Wednesday morning at Normanton, before leaving we bought breakfast at the bakery and had a visit to the Gulflander railway station.
We led the way using the GPS from here, the GPS was showing another track. After travelling for about 10klms we realised that the GPS was not telling the truth. the group made sure this was made into a great joke that continued for the trip.
First stop was the Bourke and Wills camp119 for photos and then onto Leichhardt Falls for lunch.
We then proceeded to Gregory Downs where some of the group fuelled up then crossed the Gregory River before proceeding towards Adels Grove for the next 2 days, we however stopped at the Gregory river for about an hour for a swim.
Adels Grove
Some members camped in the Grove while others camped up top where generators where allowed. We spent 2 days relaxing, canoeing and swimming as the weather was hot with very little breeze, we explored Lawn Hill NP, visited Riversleigh, had dinner at the Bar and Bistro, drank lots of beer, it was a great 3 nights with great people.
End Part One