I'm a little nervous after hearing another member lost their 38-page build thread on this forum. Fingers crossed, safety squints on...
I'm Whiskey and here is my baby:
At least that's how she looked before sitting for 4 years in New Orleans. I started teaching high school and all of my free time went poof.
This is how she looks now: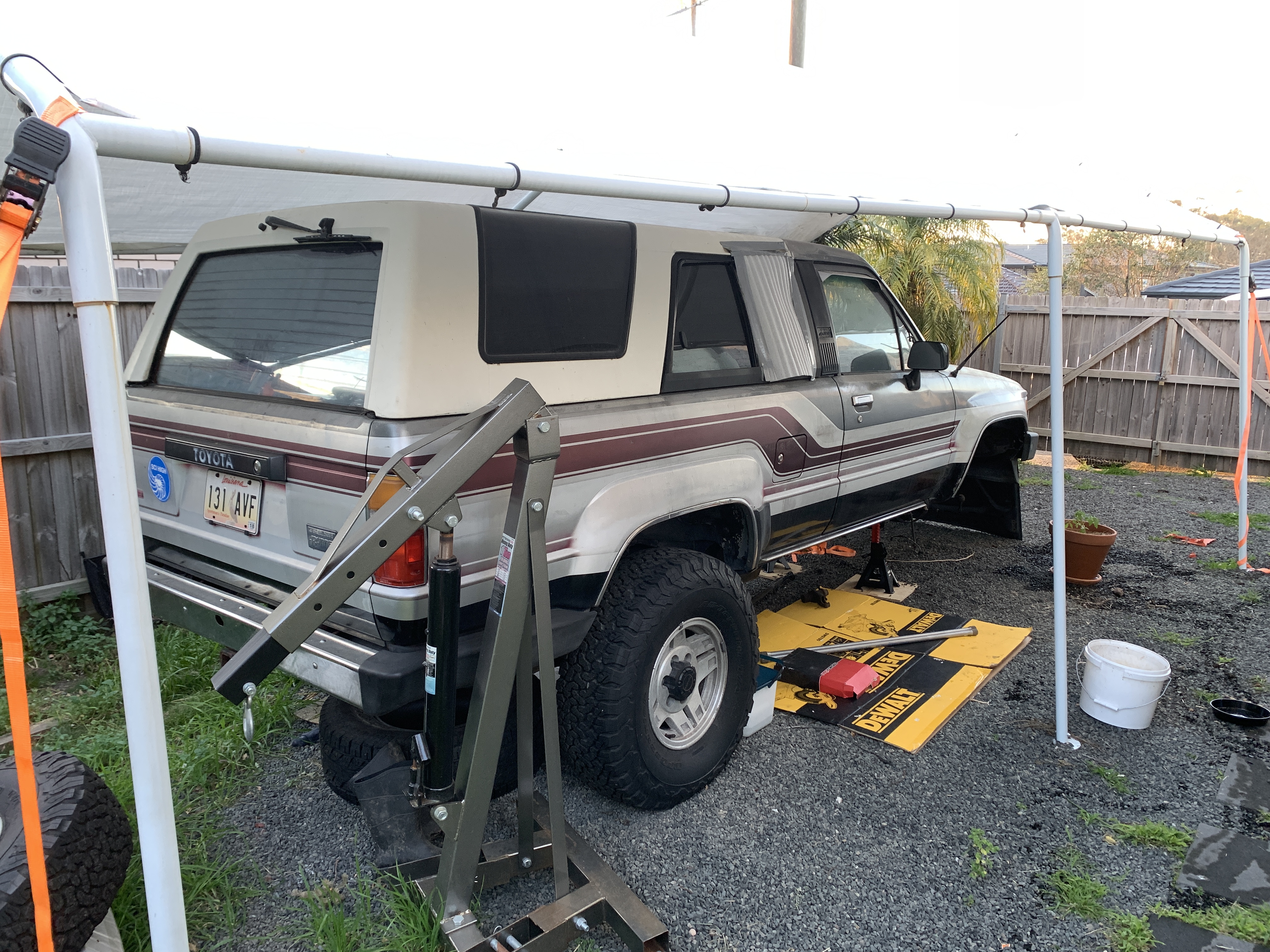 As you can see, the motor is out, it spun a main bearing back in New Orleans, sat for 4ish years and then ended up in a cargo container headed for the land down under. She is, at present, mostly stock but I have some pretty special upgrades ready to install. Namely, a long-travel IFS front end and a Chevy 63" leaf spring swap for the rear.
I'm rebuilding the motor and I bought some pretty trick performance upgrades for it. Y'all are going to get a kick out of it. It's the tried and true 22RE which was the ubiquitous power plant in North America (we never got a diesel, sadly). By the time I'm done with it, I'll have a screamin' four banger with 30% more power than factory and it will still be woefully underpowered. Needless to say, now that I'm in the land of diesel Toyotas, I'll be looking for a donor motor in the future.
I've got some hurdles to clear in order to make the suspension mods street legal; I may ask some of you for advice, especially if you've ever modified OE control arms and put them into regular service.
Beyond that, the truck needs a total resto. I don't have space at my current house to do a frame off so that will have to wait. For now, I'm settling for the highest degree of in-situ resto work I can reasonably accomplish and a general proper going over. I really just want to get this thing on the road. I'll take it apart again later and do it all the way once my wife and I find property.
I'm going to crack right into the first part of this build - Resto and upgrade of the entire front suspension. My plan is to assemble the front end stock now in order to secure rego more easily then buy a set of core lower control arms to modify for my long travel setup. I already have the axles, extended brake lines and various components to make the switch. I will keep the OE axles and control arms to fit to the vehicle for inspections. The longer leaf springs going in the rear are a little more tricky. I'll get into that more later.
Step 1- Removal of 33 years of shmutz and grime from parts
The keen viewer will spot the Home Depot box in my shed. It was used to transport my ego over from The States.
Parts in varying stages of cleanliness. Every non-mating surface is getting VHT epoxy chassis paint. In the future, these parts will get powder coating but it's unnecessary at this stage, it's going to get torn apart again later. I'm a little bummed to see flash rust on some of the parts cleaned a few days ago, my paint order was delayed and I didn't want to spray them with a film because they were one wipe down away from being ready for a paint coat. I'm pretty annoyed I didn't think to take before pics, these parts were shocking. Y'all can imagine what 33 years of shmegma would look like on drivetrain parts.
I had to leave some (a lot) of my tools and equipment in New Orleans so I'm cleaning parts the old fashioned way - gumption, elbow grease, chemicals, abrasives and the occasional assistance of a friendly herb that assists with patience. Oh yeah and beer. Here are the tools that have gotten me this far:
Evapo-rust is harder to come by here in Australia but for those that aren't familiar with it, it's a bloody godsend. It's non-toxic and removes decades of rust with an overnight soak. It can be used over and over again, only needing replacing after properly soiled. Speaking of miraculous shit in a bottle, has anyone heard of Marvel Mystery Oil? It's another skookum yankee product and I have not been able to find it here.
Here's a bonus pic of my wife's bike:
We brought that over from the states too. It's a '71 CB350, one hundred percent original. Needs some cleaning but is pretty cherry. Only problem is, it can only travel at mile per hour so I don't know how we'll register it down here.
Well, that's all I've got. Stay tuned to hear me use words like "inches" or "wrench" and I look forward to getting to know you guys.