G'day all.
I joined the 4x4 Earth forum at least two years ago now, and until recently I was almost completely inactive.
I was initially drawn to the site because of the tracks map, but now it's the generally friendly discussions on the forum, and the welcoming nature of the members I met at a recent gathering that have me logging on almost every day.
I know that the forum has a separate section for member introductions, but I consider my ute to be an extension of myself, so I'm just going to combine my intro with this build thread.
These first posts are doozies, so I suggest grabbing yourself a drink before you read on.
To get started, I thought I'd share the backstory leading up to the purchase of my first HiLux.
So.
I'd driven nothing but VU Holden Utes for more than a decade leading up to last August. The first of which was a VUII Storm I bought new when I was 19.
As much as I loved it, I always yearned for that little bit more, and that's why as soon as I was old enough for affordable insurance, the Mrs took the Storm, and I upgraded to a VUII SS.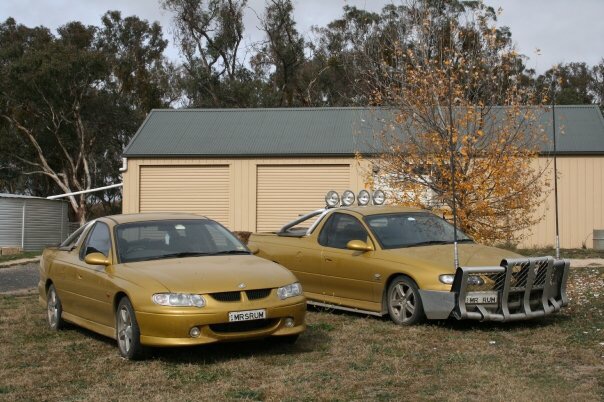 Both utes had many facelifts over the years.
You don't always need a 4x4 to have fun in the mud.
A full day of detailing later.
I had a blast with the SS over the years, but when the annual mechanical repairs began to cost more than the vehicle's value, I decided it was time to move on. Intermittent gearbox trouble on our way home from a weekend in Burnett Heads was the final straw, and I started doing my research the very next day.
Our type of travel has changed quite a bit over the last few years, and as a result, we found ourselves quite often leaving the ute at home, opting to take the Mrs' Captiva for its superior ground clearance........ I know I know, that's probably never been said before, but compared to a lowered Commodore, it's true.
The Captiva actually performs quite well in sand.
Anyway, add the fact I couldn't fathom owning anything without a tray or tub to this need for more height, and we were instantly drawn to the HiLux range. The proven history, wide range of accessories, and parts availability in remote areas were the main draw cards for us.
Of the available variations, the Extra Cab seemed the obvious choice. The internal tub dimensions aren't terribly different from that of a VU, and the additional cab space and seating seemed like features I could certainly benefit from.
Convincing the other half that the extra cab was more suitable than a dual cab was as easy as getting her to sit in one. First thing she did was look over her shoulder and say "That's plenty of space for the dogs." Then she looks to me and asks, "So how do we buy it?"
We have two extremely spoilt Border Collies. And yeah, the chocolate one's a bit spesh'.
The HiLux we ended up with is a (Feb) 2013 5 speed D4D SR5 Extra Cab in silver, and was in excellent shape when we picked it up. It had around 70000 on the clock, and being less than three years old, still had the balance of its new car warranty.
I was originally hoping to find one in white, but this one was just too good to pass up, and now I can't imagine it any other colour.
Saying goodbye to the old Holden was a bit of a sad moment. For years I've been known as "the bloke with the gold ute", and many people, including some of my closest friends, had never known me to drive anything different. Since trading it on the HiLux though, we've never looked back. It was the easiest transition ever, and I didn't, and still don't, feel like I've had to compromise on anything. Well, that is until we come across mountain roads full of tight bends. The turbo diesel doesn't give quite the same thrill the V8 did, but then again, I've somewhat outgrown the need to "Feel the Gs".
So now we had the blank canvas, it was time to make it ours.
Rather than jump in and go crazy straight away, I wanted to take my time deciding exactly what I wanted the HiLux to become, and even more time working out exactly how I wanted to go about making it happen.
This didn't leave me with much time to implement everything though, so many late nights were needed to get everything ready before our fast approaching deadline.
See, years ago my fiancée and I decided to do the Canning Stock Route as our honeymoon, but as we didn't have an appropriate vehicle back then, we've just continued to put our wedding off till we did. This meant that the very moment we drove away in our new (to us) 4x4, I was blindsided with a "So does this mean we can get married now?"...
I wasn't prepared for that, and just replied with, "Well, yeah, I suppose it does."
After explaining that there was a fair bit of preparation involved, and that it would depend on my holidays falling during the right season, we started working out if it was possible to manage next (this) year.
A few weeks later my holidays were allocated, and everything just sort of fell into place. The only concern I had was how much we had to organise, and how little time we had to do it.
Okay, now that that's out of the way, let's move on to the build.
Best grab another couple of drinks too I reckon.
Last edited: