Hi guys,
I've been heading up mount sugar loaf solo lately and have found a few tracks I'd like to explore a little more but would require another vehicle or 2 just in case.
The part I've done thus far are fine for anything with a 2 inch lift and possibly stock but since I don't know what lies beyond, you will have to make this call yourself.
I'll be heading in from Wakefield road and turning in on Archery road (meeting point) to head under the freewway along wakefield forrest road.
Turn left on sugarloaf range road.
(turning right takes you towards sugar loaf and mount vincent- FYI route is great for stock and those new to 4wd. Happy to do this run with anyone on weekends. )
Here there is a junction where I will be continuing straight down brunkerville rd where I have encountered a drop off a fair way in. There appears to be a chicken track but I cant confirm.
I haven't gone through as I don't know if the track comes out anywhere and if you can get back up without some effort - assuming the chicken track is not workable but I believe it is safe enough if care is taken.
I want to continue past this point to see where/if it exits. Map says yes but who knows.
Then assuming ok track conditions, I will return along the same route to the junction and head down sugarloaf range again onto blowfly trail.
This has been suggested by the tracks section on here as a one way (blowfly trail) but it has been reasonably dry so might be ok it a turn around is required. This is a clay type track so may be slippery and could be challenging to get back up if required (maybe a winch job)
If all goes well and we come out near freemans water hole with time to spare. A quick run to the playground might be in order and maybe pick up a snack at the Oak just down the road.
Here's what the tracks will look like . right to left straight across the top then back to the midway point and down.
Some pics of the track
a few climbs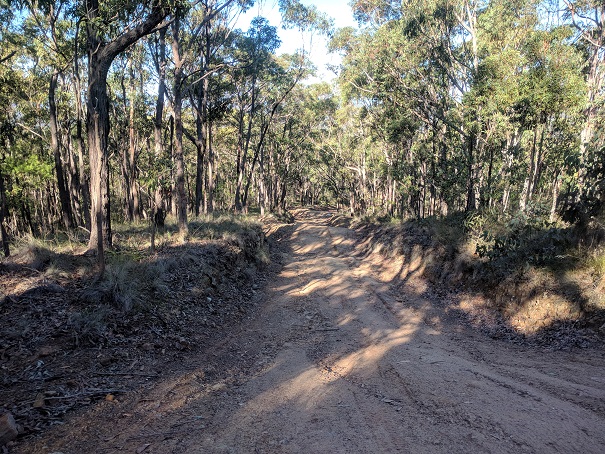 a couple of rock steps but nothing the right line wont get you up easy but this is where the lift helps
and the left at the junction heading down to blowfly which disappear down the hill
I did all these sections wet so they will be even easier now but pics never seem to do tracks justice.
Disclaimer - I can't promise how easy or how hard these tracks will be nor that the plan will be stuck to or exactly how long it will take.
Since we're not far from the freeway, its easy to get out back along fire trail type roads.
I figure around a 9am start at the starting point of the map on archery road.
UHF and recovery gear just in case.
heres a video on the playground to give you an idea of whats there . skip to 6mins to see the start of the quary . could be a few hours on another day on its own
thats it.
let me know.
Last edited: