..
The famous Freds Arm awning swivel unit.
Comes with original 7 page owners installation / instruction manual.
This allowed a side awning to be swung around to cover the rear when stopped, allowing EXTRA WIDE cover if cooking at the rear etc.
Takes literally 30 seconds (possibly much less), take off velcro strap, pull down a couple of pins, swivel around, lock in, done, put awning out.
With the demise of its parent company (Black Widow), these are like hens teeth.
New pricing info is very scarce, the only thing I could find on them (another 4x4 forum thread) was from 2009 they were around $400 + freight.
I got it 2nd hand, planned to fit, but that idea passed by and now no Ranger, so it can go to a good home for someone to use.
Designed for LH awning, any length.
Asking $220.00

3 example pages of manual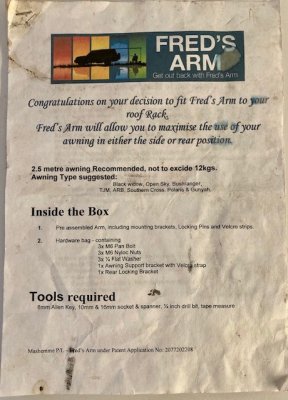 Bonus Hi-lift / shovel brackets thrown in.
Last edited: