Day 1 Thursday
Ended up just a day to meet up and make camp not far out of Ensay along Watts Creek Rd after some lunch and some drinks at Ensay, camp site was rather basic but good company. And some wood was already laying around for a camp fire. On the way we spotted a truck on it's side when heading north out of Bruthen, plenty of people around helping so we pushed on.
Day 2 Friday
Take off along Watt's Ck Tk, some ascents, washouts, etc, nothing difficult though. Onto Timbarra Bridge Tk, come to a gate (unlocked private property one) but we decide and take a side track following the fence line as it looked more interesting
. Track was a bit overgrown, had to push back some growth at one stage. Come out the other side back onto the main track.
Onto Scorpion Ck Tk for another steep section, and onto the main Timbarra Rd. Have some time up our sleeves so we check out the camp sites along the river to see what's there, travel along a section becoming closed in and come up to two large fallen trees, track only goes back to the main road so we turn around and hit it where we came in.
Follow the main road following the river, through some private property gates, and we turn onto Running Ck Tk, come to a fork, left takes us to a camp site and right gives a hint at a nice climb. We turn left, another basic camp site, little overgrown but a nice flowing river. Map appears to have the camp on the other side of the river, so we see what's there while Jack goes and plays on the hill on the right and fork. Track on the other side appears little used, so we come back to the original camp site and Jack returns to tell us we are in for some fun tomorrow, along with a warning to be careful on the washouts.
An early camp is made as we decide we are on holiday, no filling out the days with driving, so a relaxing arvo is had
. My rear sway bar bushes had died so Jack jumped in and disconnected it for me. Again wood is found laying around for a camp fire.
Camp
River beside camp
Day 3 Saturday
We pack up and take on the hill climb, decent ascent, with slow approaches to the conservation mounds and the opposing faces drop off quickly. With Jacks earlier warning no trouble was had and we made our way along nicely.
We turn onto Hill Plain Track for a long continuous climb, great fun as it just keeps going and going and going, Marks car puffs blue smoke most of the way up, but we come to understand it's just what the car does
No solution has yet been found as it done the same last year.
We come across a rocky creek crossing with a steep exit, we park up the hill a bit and wait for everyone to make it across. Was possible someone could get hung up with the rocks in the creek or rutted exit, but no trouble was had so we continue on up the hill again. The track flattens out and we continue through some scrubby but scenic areas.
End of Hill plain Tk
Video (just the flat section, learning to use camera)
We reach Nunnett Rd and head north, pass some open area camp sites and come up to Wheatfields Rd, has a road closed sign so the maps come out to reassess the direction. Further north it is and we get onto Jam Tin Flat Rd, easy dirt track through the regrowth area from the big 2003 fire to hit the area.
Jam Tin Flat video (again no action, just flat/scenery)
Continue on Diggers Hole Rd, bush closes in and becomes Diggers Hole Tk, some decent descents and climbs through a creek crossing that sees most scrape rear bars on the rocks. Up the hill for a good climb and we make a right onto Mundys Plain Tk, the track is rocky and steep, even some manuals used 1st low for one section, more blue smoke is seen from Marks 4by, we hit a fork and decide to back track down the steep and rocky section because it was apparently a deliberate wrong turn by our trip leader John to make a right back at the Mundys plain intersection
.
Diggers Hole Rd video (scenery/denser bush)
We pass the Diggers Hole Track intersection which looked familiar and make our way to a small camp site on the Buchan River not far along. Another early stop, a swim/wash is had, Lee drops down the steep sandy crossing entry and makes camp on the rocks on the far side of the river, which is now the Main land, while us Islanders make camp on the west side. John's awning shows us it's self folding abilities, more wood is found laying around to make a fire, the main lander joins us and a goanna falls out of a tree managing to catch onto the lowest branch.
Buchan River at campsite
Video of river
Fallen Goanna
Day 4 Sunday
We pack up, some wood is still visibly smouldering (even a good 8 hours after the fires out) so it's dunked and left in the river. The rest of us tackle the steep crossing entry, slow and steady and no dramas are had, the exit is similar but first a tyre staker is cut out of the track before anyone attempts it. John and Lee head up with a few revs, no dramas so the rest of us tackle it slower as it wasn't as bad as it looked. The rest of the track has some nice rocky climbs, we open and close some farm gates, some nice views are seen along the mountain tops and we reach Bald Hills Rd.
Jack crossing Buchan River
Areas are quite green and pretty, we hit an open section with a good view of the plains and then turn left onto Seldom Seen Tk. track starts out fairly flat, bit of growth pushing in but then opens up and gets some decent ascent and descents with some nice views at the tops. A fire tower is spotted so we turn onto Lookout Tk to see the views.
View on Seldom Seen Tk
We park up and get the cameras out, the ranger is on station and we get some better views up top, very much appreciated, we talk about our trip plans with him and find out the owner of Seldom Seen had unfortunately passed away 18 months ago (we were there 2 years prior) involving a poison accident, he was very much a character when we met him the two years ago.
Views from fire tower
We head to Gelantipy for a fuel stop while Lee and Mick head to Buchan for vital drinking supplies. The rest of us get onto Tulloch Ard Rd, 2wd but a pretty drive through the bush bordering the Snowy River National Park. We park up at the Running Ck Tk intersection (yes another Running Ck Tk) and have lunch while we wait for Lee and Mick to arrive from Buchan. Later we catch them on the radio, but it's still a good while before we see them as they got caught behind some slow moving camper trailers.
The camper trailers get in front of us and head down Running Ck Tk, a steep partly rocky track, from the radio chatter they weren't expecting it, we quickly catch up being single 4wds, but no overtaking spots are around so it's a slow decent to Jackons Crossing Tk. Was a bit frustrating waiting for the campers to get down but in the end we are all out there to enjoy the bush. Just hard to remember that when you can travel three times quicker hehe.
Jacksons Crossing Tk has a few steep conservation mounds, winds its way through a bit of private property, the camper trailers let us overtake in an open area (thanks
) we get some advice on the Snowy River crossing from some walkers and we make our way across, west side of the river looks to be a bit of a tent/camper city, obviously a popular spot. A very scenic crossing, probably hub deep, goes over an island, rocky bottom and we head up the exit.
We find some camp sites further on, a bit busy but we park up on a patch of beach front, Lee, John and Jacks cars are put in formation and the awnings are out to create a decent shaded area on the open beach, while Mark and I begin to set up our tents, I abandon my attempt until later when it cools down.
The river is very pretty here, some large cliff faces and some almost rainforest type areas with large ferns and blackboy style trees. River is very deep in areas here so more swimming is done, we meet a couple (Brett and Vanessa) camping with their kids that have just started a 12 month trip, leading a very different lifestyle to the usual grind, doing a lot of traveling and home schooling the kids. Some creative anchoring systems are used to stop Marks tent blowing away as the pegs don't work in sand, while I place various weights in the corners of mine as it cools off enough to set up.
Camp on the Snowy
Blackboy style trees
Day 5 Monday
A relaxing day, spent sitting under the awnings or in the river, Another couple have a chat, we give some advice on the Deddick trail which they planned to do as a day trip (as we had done it before), We meet Brett and Vanessa again, later we decide to stop being lazy and gather some fire wood in preparation to make some coals for a camp oven roast our fantastic trip leader John puts on
.
The roast beef and pork turn out amazing, roasted potatoes on the coals similar, and some tinned vegies to top it off, just wonderful, a big thanks/congrats to John
.
Some neighbours put on a fireworks display for new years eve (early as they had kids they didn't want to wake up in the middle of the night), but still dark. A great New Years Eve to finish off 2012.
Day 6 Tuesday
Initial plan was we were going to pack up this day and head off, the previous arvo it was decided this wouldn't do, the camp site was fantastic, the temp was going to be rather hot, and the morning saw some sore heads as well, comment was made, the idea of packing up new years day was a very silly idea
More river watching, relaxing, photo's, Brett and Vanessa offered their kayaks for use, John and I took up the offer for a quick paddle in the morning.
Later Brett brought his 'horseshoes' throwing game out, taught us how to play and we had a good time again. Some fierce competition arose as we turned out to be pretty good at it.
We found out the other couple had taken on the Deddick Trail, expecting to be a big day for them with a pub dinner.
After dinner, night arrived and the horseshoes came out again for a night game, some even more fierce competition was had, with Brett saying things were happening that he hadn't seen in years, and all in one night, the couple doing the Deddick arrived later and joined in for a quick game.
Day 7 Wednesday
We start packing up camp, I find out my batteries limits with my fridge temp rising, Lee noticed my front right is flat so the compressor comes out as well, small stone in the bead was levered out but John doubted that was the cause (he was right as it kept slowly leaking).
We head off east to along Varneys Tk with Brett and one of his kids in tow for part of the day, some washouts and a creek crossing but nothing serious. We turn left on the main Yalmy Rd, I get to watch John drive over a drain (by accident) with some suspension flexing and rear bar scraping. Later we make a right onto Serpentine Tk. Fairly over grown but has a nice steep climb near the last section we travel on, Brett is following Mark and a memorable comment is heard on the radio, he thought with all the smoke he was driving into a bushfire
, we hit the fork and turn left onto the Yalmy Trail, 20m into the track and he hit a tree across the road, decent size and John cuts it out with his chainsaw and we push it to the side and carry on.
Not far on, we hit another tree, we cut one side through and winch it using a snatch block off the track, the winch needs to be re-spooled to get it back in cleanly. Further on we hit a bigger tree, Johns starts on one side, this one requires cutting from both sides as it's quite big, the saw gets jammed and my axe and tomahawk come out to press the wood apart to get the saw out. Johns chainsaw is getting blunt so mine comes out to finish that side, and I then take over and cut the other end of the tree to make a wide enough portion for the trucks, my saw also gets jammed and the winch and manpower are used to push/pull the cut tree off the saws bar, we get there and winch the tree off the track.
Further on we reach the creek crossing, with another tree across the entry, the winch is used for this one with a snatch block, the remote is running out of battery power and John can't find the hand controller, enough power is still available holding the remote next to the box at least (by the end of the trip he found the hand controller sitting in the glove box next to his seat).
All get across the creek and the track closes in becoming more overgrown, a small tree is driven over, another we can get around, Lee takes the lead for winch duties if needed, up the hill and a 10-20m section has a bunch of trees and branches strewn across the track. We have lunch, decide as the trees aren't large, just many, we can cut through this, Brett assists with his chainsaw tackling the smaller ones, I get mine out on the bigger one and it gets jammed as the tree went to opposite way to expected, John gets his running after a sharpen and cuts more of the bigger tree to free mine, they continue while I head back and re tighten the chain. After quite a lot of effort the track is clear. At this point Brett decides he better make his way back to his camp, we thank him for his help and the good time back at the Snowy River camp.
50m on we come across a single tree, John cuts it and the rest is pushed off the track, another 50m on we hit a hairpin, we hear over the radio Lee saying that our early thoughts of turning around are no longer going to be thoughts. Just after the hairpin, on an uphill we have a massive 3 foot thick tree suspended across the track, with a 1 foot tree laying directly on top of it. The situation is assessed, big heavy tree uphill, all our cars downhill of the tree, difficult chainsawing exercise, unpredictable large weight suspended in air. Too dangerous to attempt/too difficult, it's 2pm and we aren't even 1/6th through the track.
We turn around on the hairpin with Mick directing us and make our way back to Yalmy Rd, climbs/ascents in reverse, we hear Brett on the radio and let him know we came, we saw and we gave up, he reported seeing a wild dog running along the track, and we made camp at a small area next to the Yalmy River. A camp oven stew was made by throwing ingredients together (thanks to Jack for the idea
), another great camp oven meal.
Day 8 Thursday
My tyre had gone down again overnight and required pumping back up, we head east through the tracks, we are seeing more and more leaf litter as the areas are getting less and less used the further east we go, we hit a gate marked fire access only, check the maps and make our way up a 'very steep' unnamed track to get on course, a large tree is over the track but has a area previously pushed around, Johns gets around with some nerving angles involved, Lee tries, drives up to the pushed through area, the soft entry has him spin tyres and second attempt at a different angle and lockers makes it, he pushes further in to the scrub and reverses back onto the track, avoiding the big crater left by the tree base, looks strange but the technique prevents the potential roll over angles John was getting.
My turn, I use a bit more momentum and the lsd gets me past the entry, Lee guides me onto the track using his technique. Us three are parked on the hill while we wait for Marks 4by to recover with an electrical fault cutting out his fans and overheating the engine. We wait on and after a while he gets going again, makes the entry and gets guided onto the track and Jack follows suit.
We push on further up this steep hill coming to an even steeper section, John and Lee get up using lockers for assurance, I put the foot to the floor as the engine is struggling, a choked air filter is believed to be the cause (gas tends to be affected by that more than petrol I'm finding, but petrol was low and didn't want to risk it cutting out), the 4by makes it up. Followed by the smoky surf and then Jack in Tonkatrol.
We arrive back on a main dirt track and make our way to Joy Ck Tk and then an unnamed branch with more steep sections but descents this time, John cuts through a tree across the track and we continue on. Onto the black top to Goongerah camping area for lunch. A big white dog joins us for lunch and feeds on our scraps and gets some pats.
After lunch we head east on Ellery Ck Tk/Link, a nice climb with some washouts, we cut a smallish tree out and push on and come across a large three trunk tree over the track, we check for a way around and another tree is across the way around, this looked very deliberate, so we guessed we shouldn't be there and made our way back to the main road.
After going past our reassessed route, we backtrack again and get onto BA Rd, 2wd track but a continuous climb in the hot weather has my temp slowly rising, not overheating but stopping occasionally to let it cool down, one thing we notice in this area, is there are nice shiny new signs for all the tracks, but the tracks themselves aren't maintained much.
We stop at 'Ocean View Lookout', and a very nice view it is with as it says, the ocean in the far distance. Reception is found and the phones are out to let families/etc know our progress.
Onto Ada Divide Tk, with some more ascents/descents, then Barling Rd, some scenic ferny areas in the darker corners of the cliff faces along the track. We hit a fork with right being a 20km but likely easy run to the next camp, and left looking overgrown but 4km.
We go left on Billy Buster Tk/Ada River Tk, the last 4wd track of the trip and one of the most memorable, some steep sections, navigating though tight trees, driving over fallen ones, some gaps saw less than an inch either side of the vehicles, almost touching bull bars to trees to get around others, side mirrors getting pushed in. One of the last obstacles was a decent tree across the track, it had us thanking our rock sliders were there, I started off tackling it at an angle easier on the drive line, but instead saw my rear diff bottoming out on it, changed the angle and with a bit more bumping it got over.
Down another descent and we come out through some thick growth to an open 2wd road and the Ada River Camping Area to our left. Jack pulled out into camp minus his right hand rear flare, but they managed to pick it up to reattach later
.
We started setting up camp/catching our breath from the big but great day, a big lizard came out for some photo's and meals. I almost walked to a Red Belly black Snake, luckily it took off into the bushes and not towards me, 5 minutes later we spotted it again trying to sneak up onto a small lizard for a meal. We smartly made sure we didn't camp in the alcove area it was hanging around. We then checked the small river for a quick wash/cool down. Had enough of the tyre slowly deflating and swapped the spare on with John helping me lift tyres to/from the carrier, found a sharp stone/stick had wedged into the tread area causing a slow leak, should be repairable at least.
Lizard having dinner
Day 9 Friday
Pack up camp, air up and hit the main roads towards Cann River, Jack had to head home today so we said our goodbyes to him and Mick before the highway turnoff, they went west and we went east into town, some fuel and supplies and we tried one of the free camping areas south of Cann River, awnings were set up, bloody hot day so we alternated between sitting in the river and under the awnings and not much else, tried a bit of fishing, Mark caught two small Bream, under size. I came across another Red Belly Black Sake when I went to get a drink from the 4by, it stayed put so I went back to the river, later it wasn't there so it must have moved on. Mark noticed his front diff leaking oil, luckily it was at the end of the trip and only 2wding left.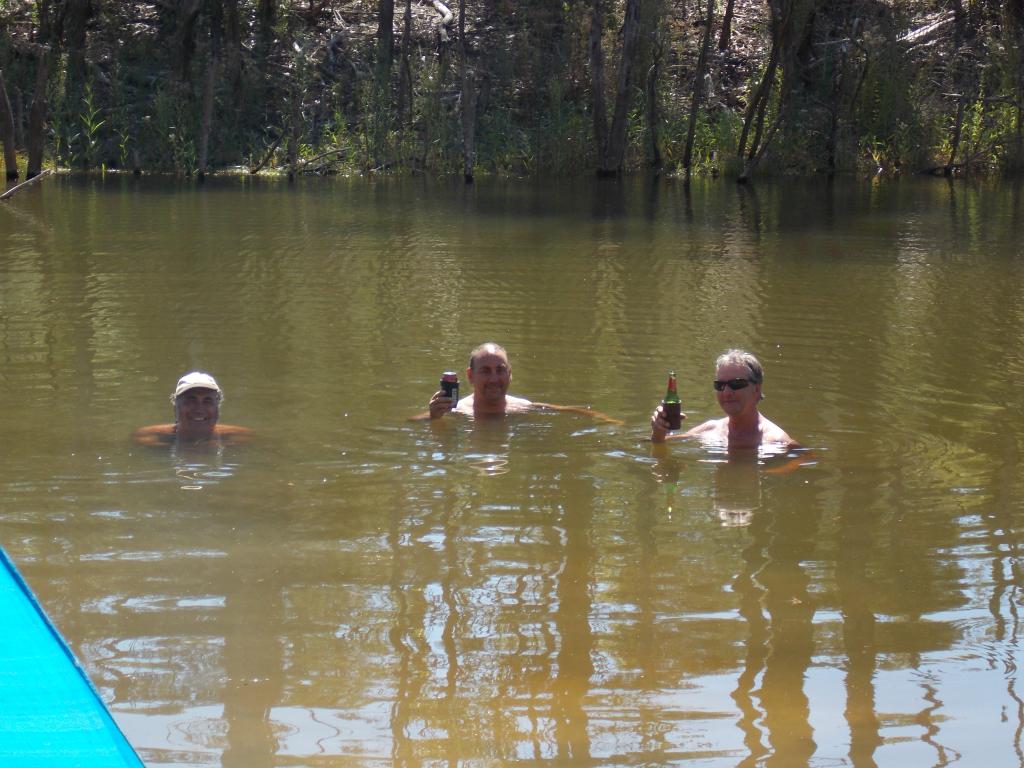 Was getting close to 8pm, bugs were showing no sign of abating, we still hadn't bothered with cooking dinner for that reason, so decision was made to abandon camp and head to the caravan park at Cann River, camp was set up, basic meals had and a nice shower.
Day 10 Saturday
Another hot day forecast, I decided I would head home this day, so packed up, said goodbye to Lee, Mark and John, visited the grandparents on the way home and arrived home about 7pm. Leaving Sunday to wash the 4by and wind down a bit before the dreaded work on Monday.
A fantastic trip, thanks to John for organizing it and the awesome new years eve roast, thanks to Lee, Mick, Mark, Jack and John again for the great company.
The areas were picturesque, great 4wding, would recommend others head out further east than the norm to see what there is on offer, just be prepared with a chainsaw and have both maps and gps, as there are a number of places with forks that the gps don't have but maps do, and a number again that the maps don't have but the gps does, and again forks that neither do. (Rest of my photo's are here
2012-2013 Ensay to Ada River Photos by Matt_Outrage | Photobucket
)
Hope you enjoyed the read