G'day Adventurers
The new year is into the second month and the wet season as it is here in the inland Pilbara region is showing all the classic signs of being a dud, with the only named cyclone so far this year not making any significant impact on the north west, weather wise. It would be nice though if the rains come.
I am back in relative civilization, well my home town anyway after a rapid fire solo vehicle trip into Desert Queen Baths and to a few points deep in the western folds of the region where the much of the traverse is trackless and navigation is by map/compass, with detailed field notes and observation(s) along with two GPS units, so it's fair to say we were remote.
This particular adventure was different for me as I was mainly a passenger to a large degree, but useful at times for spotting or guiding the vehicle into and through the more 'serious' obstacles such as deep wash outs and dry creek bed crossings, with a bit of scrub clearing just to make the forward progress of my mates 79 series Cruiser a little easier.
The journey had been in the planning stages for several months and the preparation stage was completed here in Newman, my home town, the actual objective is yet to be achieved and I can't say much more than that, but if it all comes off there will be a great deal of valuable information put forward that hopefully will help some one survive in what is really a very hostile environment. I'll leave the science and number crunching side of things until it's all actually done.
From Newman, along the Marble Bar road to the Ethel Creek Station/ Jigalong Community road is all rough tar seal, the Jigalong road is all dirt that is now being re-established with a grader working on the rougher section east of the Fortescue River crossing, the road all the way to the community is wide and relatively firm, so it's good travelling even at 80 kmph.
The Balfour Downs road is reasonable and several of the minor creek crossings although dry are quite rough, with deep erosion gullies either side of the wheel tracks, the Talawana track is in very good condition right the way to the Rudall River sign on the Telfer access track, then it all turns to 'schit', but that's how it is and that's how it's always been, corrugated, rocky,sandy and washed out and these are just the good bits, but at least its navigable.
We saw dozens of Camels and Bustards a few Donkeys, Dingo's and thousands of Budgies/Finches/Cockatiel and lone Wedge-tailed Eagle ~ I wasn't able to see if this lone Eagle had been fitted with a Satellite tracking device though many are part of a research program headed by Simon Cherriman, Google ~ wedged tailed eagle tracking. Absolutely fantastic stuff.
The first nights camp was at the North (bore) Pump on the Telfer end of the access track into the national park, day time temperatures were in the high forties 47.6 was about the average, so it was a fairly pleasant 36 degrees through the night until the desert winds picked up, there's nothing cool about these desert winds, but plenty of dirt and grit the Mozzie net can't filter out, so you end up looking like one of the 'unwashed' ~ the water pump was working and it took about six movements of the long handled pipe to bring water to the surface, it smelt quite rank but after few more pumps it just stank ~ but it's water.
Desert Queen Baths track entry is marked by an advisory sign, telling you the track conditions require 4wd and caution when navigating the 18 or so km's into DQB, good advice if you had not gathered that the track conditions were a little ordinary getting to this point.
DQB ~ not a whisper no birds no breeze just bakingly hot with the reflected or radiant heat coming off the Glacial Flow rock face where everyone seems to camp, I had a quick look to see if there was water in Rooney Creek, it's a fair clamber up and long the creek line rocks and boulders but well worth the effort, plenty of water, it's clear and cold, good enough to take a plunge in, but that would come later as we need to set our camp up for the day/night ~ sort out a few niggles regarding equipment and where it was located in the canopy of my mates 79 series Cruiser.
Having a feed or quick snack was near impossible because of the flies ~ BILLIONS of the inquisitive little bastards, wanting to probe every nook and cranny of the human body, the little buggers were relentless throughout the day, but at 1850hrs they simply disappear. I made a point of checking the time and sure enough it was almost the same time on all three nights in the desert ~ not science I know, just useful to know, as is don't wear dark coloured clothing, my downfall is army surplus camouflage gear, it's durable enough, doesn't show the dirt too readily but it simply attracts flies ~ might go yellow Hi Vis next trip out, but I'll probably be a target for Bees and Wasps?
A quiet night at our Desert Queen Baths camp, just two blokes out in the wilderness, I looked at my mate Hugh and said ~ I'm moving my camp stretcher further away from the vehicle, he didn't ask why, but I made the move out into an open patch of ground, then I walked back to where he was sitting having a sizable steak for dinner, I on the other hand had a Mountain bread wrap with mushroom slices, celery, carrot slices and homemade French onion dip, I'm not a vegetarian or vegan, I just simply enjoy a simple meal when out in the bush, no dishes to wash either.
Wild Dogs/Dingo's started their howling session at 0230 and by the sounds there were at least six possibly more with one somewhere just above our camp, the dog was close by but up in the Glacial rock folds, so I just reached out from under the Mozzie net and made sure my miners pick was still where I placed it ~ it's easy to fall asleep again knowing Hugh had eaten a steak for dinner and that I'd just had Vegies and maybe the dogs are only partial to steak eaters.
Awake super early ~ I still have all my limbs, Hugh was still in one piece, but all was not good, bloody flat tyre, the left front was down ~ what a bastard I though ~ but we'd done some horrible trackless country navigation into the middle reaches of the Throssell Range and well into the outer edges of the Great Sandy Desert, it's mostly burnt out with very little green vegetation but as those of you who have ventured into scrub country that's had a burn, it's murder on tyres if your not 100% focused on where your pointing the vehicle.
We simply could not detect the leak, nothing sticking out of the tyre that was obvious, yet the pressure drop from an over inflated pressure of 50 psi saw that go down to 35 psi in under 15 minutes ~ no sound.
I started scratching at the ground with my miners pick, when Hugh asked what I was up too, digging ya grave are ya, he says ~ it'll be your if you don't fcuk off I told him, but I just kept scratching and digging until the hole was large enough to hold the fully mounted 285x75x16 wheel/tyre then I laid a polly tarp into the hole, wheeled the holed tyre/wheel into it and proceeded to drain some water out of the on board water tank to make a water trough to check where the air loss might be coming from ~ nothing showing on the first flat sidewall dunking, I stood the wheel up for a tread face check and after just one indexing motion in the water, Bingo there it was an air bleed out of the tread block slot, nothing could be seen when we prised the tread block apart, what a bugger, because it's pointless trying to plug a supposed hole in a tyre when you can't see a hole ( as it turned out it was a knitting needle sized Mulga steak) ~ I tried to cook some rubber that I'd cut from the floor mat but this non rubber material just burnt to charcoal so my guess it was pure Butle and no natural rubber to do a Phillipino fix as I call it. I left this tyre un-fixed and up in the spare wheel carrier. I'd have to rob some tread rubber of a donor vehicle of which there are plenty along these out back tracks.
We had staked a new Toyo Open Country mud terrain yesterday but were quick enough and lucky enough to plug the hole and a new mud terrain with several plug string hanging out of the side wall is an ugly sight indeed, especially where we were terrestrially at the time.
Our mission out here in the 'furnace' was partially successful, we had to bail out for reasons non mechanical and non equipment related, but purely a health situation as Hugh had succumbed to an issue related to his Thyroid as it turned out, not good but he's okay
So we are back and after a couple of new tyres and the fixable knitting needle hole still holding air, the side wall plugged Toyo has been scrapped, we will continue our desert adventure next month, if all goes well.
Safe travels : Joe Fury
The 79 series 'Barge'
Desert Oak stand ~ Talawana Track ~ Little Sandy Desert.
A small sign for such a big area ~ Rudall River N/P + 1.5 Million hectares
Desert dwellers.
Telfer access track.
Rudall River water course.
North bore hand pump.
All ahead slowly.
Throssell Range residents.
Fzzz ~ Bugger but it's a plugger.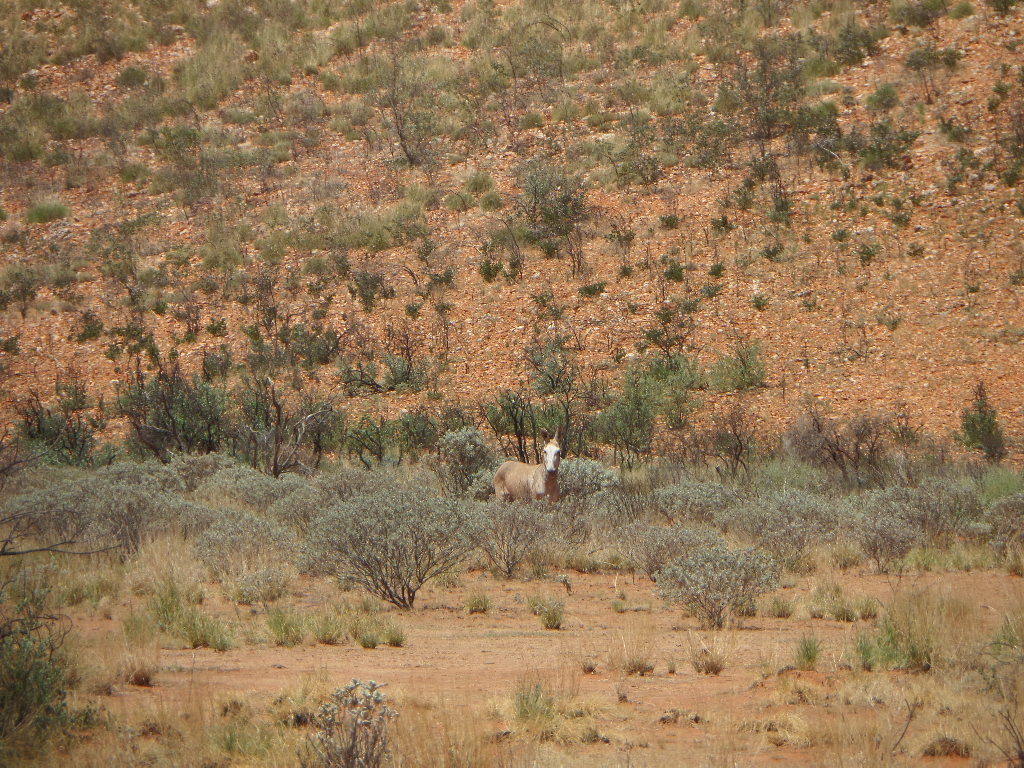 Jack Donkey looking at a 'jackass'
Darlsons Pinnacle.
Food for thought?
Our vehicles tracks from two days ago.
Last edited: