SOLD
I have a custom made set of drawers for sale from the Ranger.
Fit to any suitable size area, but with the design, it really suits a ute tub, with tailgate that drops ~ level with the tray floor.
Overall outside sizes are 980mm wide x 790mm back x 240mm high.
Cost $825 to have these made up.
Asking $400 cash, pick up only, happy to wait for an Earther to be coming by.
Photos (click to enlarge)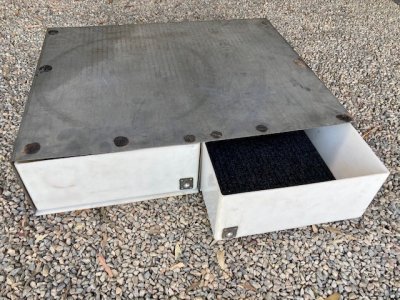 The black spots are where the urethane held the frontrunner carpet on top (boat wet type), this comes with the drawers, grey colour.
As seen in the photo below, same carpet on the inside drawer floors.
Frame is 2mm zinc anneal sheet, bent perfectly to size.
Left, right and centre vertical supports, it can handle a good size bloke sleeping on them too, a board across the open tubs 'works a treat for the feet'.
There are just 2 decent self tappers needed in the bottom bend of each (3) legs to affix to / through the tub floor, or through tub liner and floor.
Drawers are 6mm HDPE (high-density polyethylene, cutting board material), cut folded and bent to shape, then fully seam welded by a pro plastic place.
Perfect fit and slide easily.
They are watertight, so the 200h allows water to that level without entering the drawers.
Fold flat finger pulls on each drawer.
Under each drawer there is another piece of HDPE so they slide really easy, and this stuff will almost never wear out.
The beauty of these compared to say your cheap 4WD Super Centre Titan drawers ?
(Or others for that matter.)
Weight.
These are 38.7kg total, commercial ones are around 70 + kg (for less room !).
Space saved for storage.
These have dimensions :
Overall 980mm wide x 790mm back x 240mm high
Internal each drawer is 470mm w x 770mm b x 200mm h, a loss of just 40mm off width, 20mm off back, and 40mm off height.
(Commercial drawers will lose about 140mm off the width, 110mm off the back, 80mm off the height.)
Watertight to top of drawers, so nothing to get water affected on most water crossings !
Nothing to wear out or require servicing.
They just slide out onto your open tub tailgate.
I had them up almost perfectly neat to the tailgate liner, to stay snug between that and enclosed back wall of the outer framework.
A few shots of them fitted / in use in the Ranger . . . I used the right drawer for cooking stuff, the left for repair gear.
They are solid, made to last in both metal and plastic workmanship.
Any questions, PM (Conversation) or here on the thread.
Thanks for looking.
Last edited: