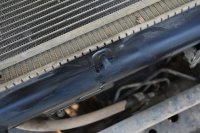 People of earth.
Got a slow drip on the radiator... Looks like when it was replaced in tassie they have managed to rest the support at the bottom on the bash plates... This has obviously got a hairline crack in it.
Going to use the dremel to cut off the offending plastic but after suggestions for repair?
Not enough crack to get anything into it...