This year we started our trip late, leaving on the 24th of Dec, first stop was Wog Way 2 off Imlay Rd about 60ks west of Eden.
It was fun for the dogs
Next morning we left about 8.30am for Licola, arriving to a very cold (14deg) bought a few things from the (very expensive) shop and headed out to the campsite on Mt Skene Cr, coming in via McMillan Spur, got a bit worried as it got steeper and tighter (knowhere to turn around) and after a while we got to the bottom only to find the bridge out but I engaged the rear diff lock and all was good and on to camp we went, finding this great campsite, after setting up it was beer 0'clock
We spent 3 days here looking around, doing some of the tracks, McMillan Spur (up this time) at the top it was a tad foggy
then over to Donnellys Creek and back, A little tour over to Woods point to check out Comet Flat via Johnsons tr, but just kicking back mostly, until the trailbike ferels turned up
Next stop Comet Flat at Woods Point, we arrived to an empty campground, unusual according to the local, which was fine by us
We found a little out of the way site on the other side of the river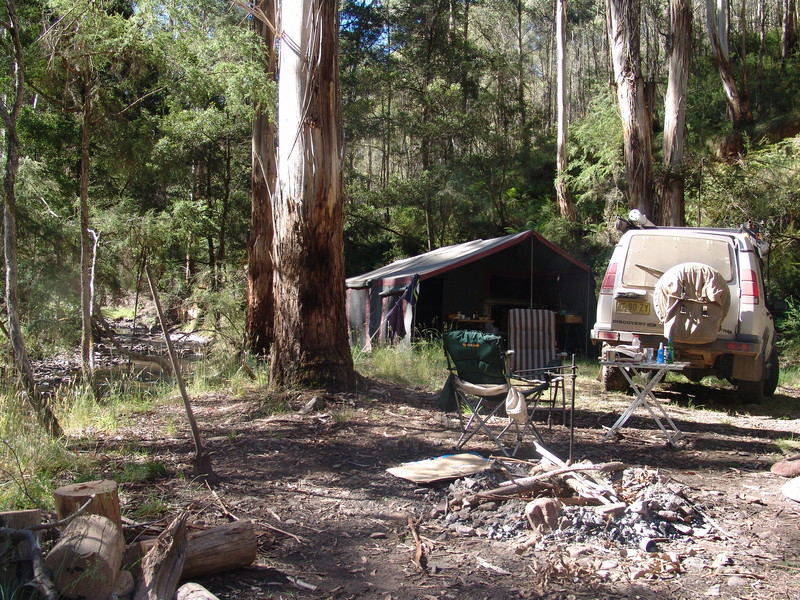 We did a few of the tracks in and around Woods Point, took a little drive into Mansfield along the way saw some things,
stopped at the Jamison Brewery and checked out the campsites along the Jamison River for future trips, back to camp and dinner at the pub that night.
Not a bad place
After 3 days here it was time to go to the next stop on our little adventure, Briagalong and Lloyds Knob on Freestone creek
This was the best campsite and not a sole around, with the campsite all to ourselves.
We stayed 4 days here, while there we decided to have lunch at Dargo and do some tracks back to camp, so off to Dargo and on the way back we did Budgoback Creek Tr onto McDonald Tr from Dargo up to Mt Budgee Budgee then Killen Climb Tr to Lees Creek Tr onto Lloyds Knob track right back to our camp which is at the end of the track, it's steep with great views and even some steep rutted soft slippery sandstone
It was here we found the reason for a clunk in the car and went into Taralgon to see if we could get it fixed, we put out a distress call on the forum and Rovercare and isuzurover answered the call, thanks again guys
Mt Budgee Budgee Trig point
View from Trig point
View from Killens Climb Helipad
Highly recommend this trek
From here it was off to our last stay for this trip, Woods Point on the Snowy River, it was hot when we arrived and it stayed this way until we left, the temp got up to 43deg on our last day, all I can say is thank goodness for the Snowy river.
It was all a bit too much for the dogs
Yes that is the dogs own chair
That's it, from here we went home, stopping at Bredbo and pancakes for lunch, mmmmmmm
Baz.