An internet picture of a 4m model showing size compared to a SWB Landrover
​
You hear about these on 4WD forums occasionally, but very rarely do you hear an Aussie who owns and uses one talking about them. I own one so here goes.
The Poms seem to love these bell tents. They are a common sight at festivals and "glamping" resorts and they are becoming more and more common in the Land of Oz. Their lineage dates back to the Sibley tent used by the British during the Crimean War of the 1850s and they remained relatively unchanged in military service until the 1950s. Sometime in the early 2000s they became cool and a whole bunch of manufacturers started pumping them out - in China. Aside from one mob out of Scandinavia, and a canvas goods place in NZ who make their own, the various sellers like Psy Clone, Soul Pad and others all have their tents made by the same factories in China and they just chuck their own brand on the tent.
They come in sizes ranging from 3m to 6m diameter. Some have a sewn-in groundsheet, others have a peg-in-or zip-off heavy PVC groundsheet. Some come with a zip up mozzie net at the doors and some don't. Some have a stove pipe jack for use with a wood stove (a useless feature for most of Australia). The tent is held up by a single pole and a bunch of guy ropes. The 4m version weighs in at around 25kg.
Sure, they look all pretty when glamped up, so your missus would probably love one, but are they even workable as an option for touring offroad?
Here's my experience: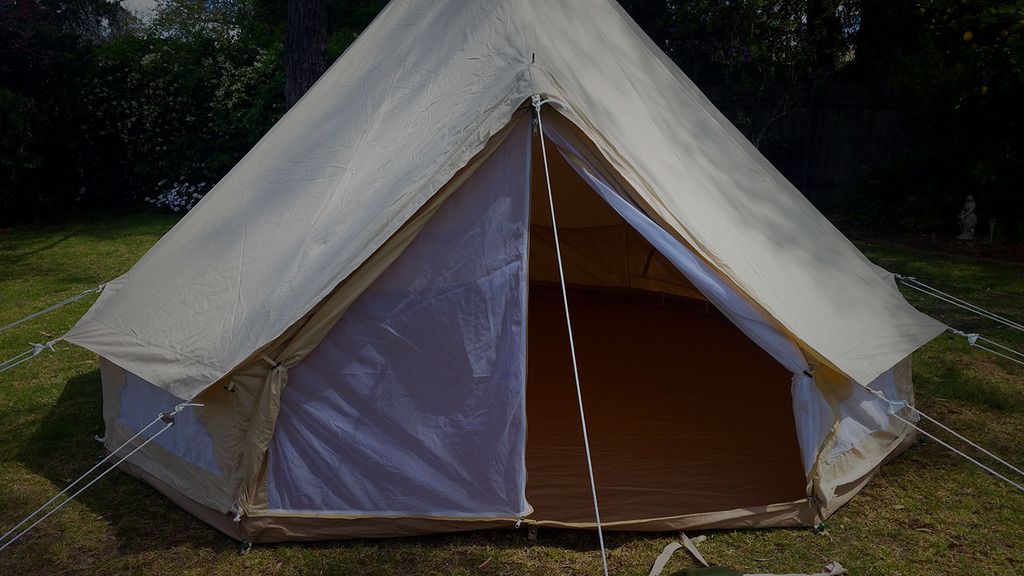 Initial backyard set-up for my new one.
​
A couple of years back I spent six months evaluating a 4m one from a mob in Sydney. It went on a number of trips, from campgrounds to remote area campsites out west - even a canoe trip. That tent endured rain, thunderstorms, hail, high winds and weeks of harsh Aussie summer sun. Last year I bought my own and have used it a few times on fossicking and 4WD trips.
I'll just list the pros and cons -
Pros:
No leaks - even after a week's non-stop rain. The only water came in when I opened the door and it dripped off me. The groundsheet forms a 15cm high "tub" to keep water from running in through the groundsheet zippers.
Excellent ventilation - There's semicircular flyscreened windows around the wall of the tent, screened vents near the peak of the tent and if there's no critters flying around you can roll up the wall of the tent for complete cross-ventilation
Speed of pitching - The sellers reckon anywhere between 10 and 20 minutes to pitch. I've got it down to between 7 and 10 minutes (by myself). Peg out the groundsheet, throw up the central pole and the door frame then peg out the side guy lines. It doesn't get much simpler than that.
Interior space and head room - Unless you're an 8 foot giant you can stand completely upright in one of these tents. My 4m model can fit in a queen sized air mattress. There's still room for your packs or bags, a couple of chairs and a folding table too. It will easily accommodate six people with room left over for gear.
Light - this might be a con to some folks, but I like the natural light let in by the canvas. Of course, being a light colour the interior of the tent can be lit by single small light source at night too. I usually hang a UCO candle lantern from the D-ring on the pole.
Resale value - These things are loved by all manner of eco-warriors, hipsters, Instagrammers and others. Keep it in good nick and you'll be able to flog it off for nearly as much as you paid for it.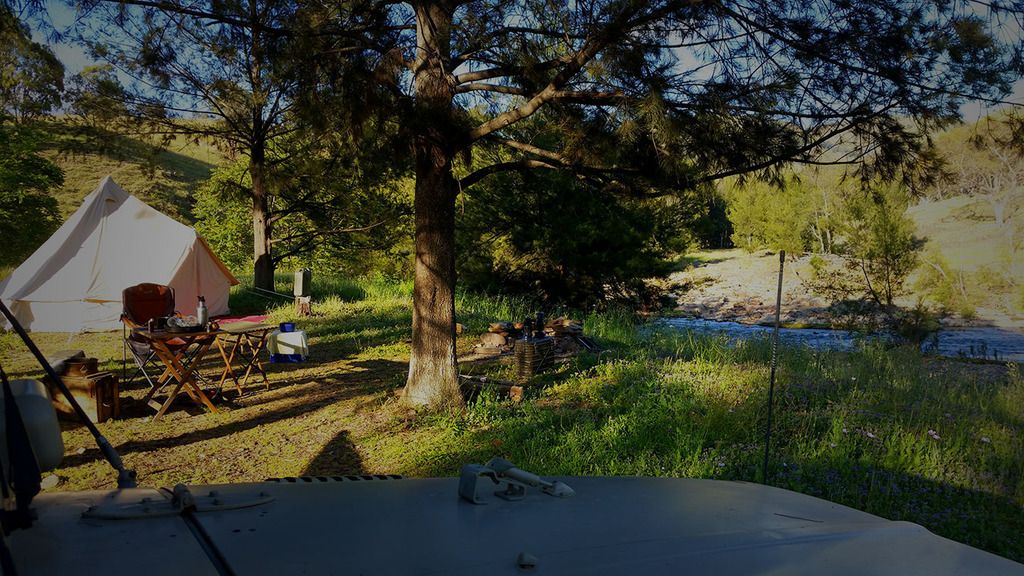 Mine set up during a fossicking trip out near Sofala NSW late last year
​
Cons:
Bulky and Heavy as - this tent is a bit too big to be carting across the country in my soft-top Shorty Forty since it takes up so much space in the back. I have a few ideas on how to resolve this though, the most workable being to make a new lighter weight groundsheet from 12oz canvas and waterproof it completely on the underside with ye olde DIY roofing silicone/white spirit proofing compound. The PVC groundsheet which comes with the tent must weigh almost 10kg by itself. Replacing the PVC groundsheet with a lighter canvas one will reduce the bulk as well, maybe by up to a quarter.
Space required to pitch - If you're pitching a 4m bell tent then you need a minimum of about 5.5m diameter space to pitch the tent and peg out the guy lines. While it's a lot more space than you need to set out a couple of swags, it shouldn't be too hard to find the space if you're vehicle-borne.
Care needed - It's canvas and it's light-coloured, so unless you look after it you'll start getting mildew problems. As with any canvas never pack it away while wet.
Price - you'd think these things have a secret patch of unicorn hide sewn into them somewhere for the prices they charge. I ended up importing mine direct from a Chinese manufacturer. Total price including postage to Australia was around A$560. Ones like mine retail here for anywhere between $750 to $1K
I reckon they are a pretty decent option and they aren't nylon.
I'll answer any questions about them as well as I am able.
Cheers!