Following the demise of the Ranger, I have my main awning, end wall, and awning tent to go . . .
* Ironman awning 2.5m x 2.0m out . . . quality older unit, fitted to my Ranger for 8 or 9 years, it's still in perfect order, and will give many years of service yet.
$80 only.
Can take some awning pics off the vehicle in the cover if wanted, here it is when fitted to the Ranger (with optional wall 2nd pic, see below).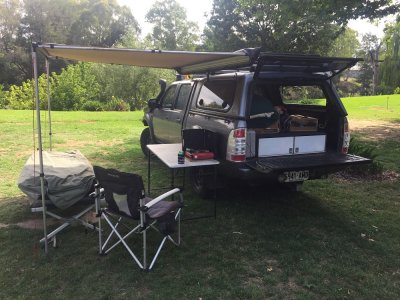 If interested with awning or for your own existing 2.5 x 2.0 awning, I have a
brand new awning outer wall
(sail slip fitting, angles down nicely to secure awning to ground, $40)
Also an
awning room
which is very fast to set up, sail track / clip in fit to awning frame, clip in side poles, 4 to 8 pegs as needed (used 2 trips, $200).
The ONLY photo I have seems to be one where we set up at Palm Valley campground, and just used it freestanding among the trees . . .
The taller wall goes to the vehicle, allowing that big door access to the vehicle side doors.
Note, only fits the 2.5m x 2.0 out awning size.
Other larger and general 4WD items, and PJ / PK Ranger specific items will be listed separately.
Thanks for looking . . . larger photos and / or info wanted, please let me know by PM (Conversation) or here on the thread.