Distance: 2243kms
Fuel Usage:229.87ltrs
Economy: 12.8ltrs/100kms (this incl's a leaking main fuel tank)
Fuel Cost: $497.26
Avg Fuel Cost: $2.163/ltr
Link to ALL Photos:
Central Nth Qld Solo Trip (Barakula SF & Expedition NP)Photos
Link to where I went:
Trip Tracklogs
Day.1
207kms/DT:2h35m
Headed off after finishing work at 10pm and headed towards the town of Murgon. Found a nice little secluded roadside quarry near the end of Murgon-Kilcoy Road at about 1am and climbed into the rear of the Defender for a warm and toasty night's sleep...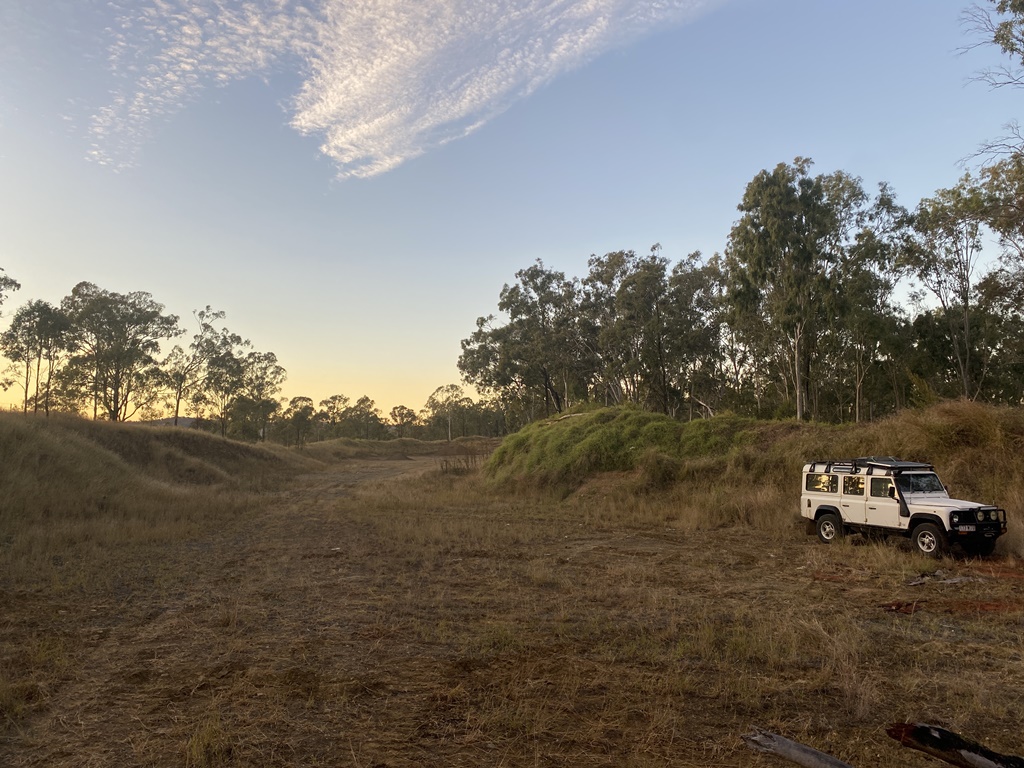 Day.2
442kms/DT:7h07m
Left my roadside camp around 7am and headed twds Joe Bjelke Petersen Dam for a quick look before making my way to Murgon to refuel and then off to my next destination - Boondooma Dam. These spots are nice if u like fishing and have a boat and nice camping spots if you want some lesser-known spots...
From here it was off into the start of my exploring of Barakula SF. The area was still showing signs of the earlier rains in the year with water lying around along with the dreaded & BIG Mozzies!! Came to my 1st POI - Round Mountain, a high point in the area so upon reaching it, turned off on to the side track and headed twds the start of the hill climb. Came to a nice little hill climb before u reach the top... so with still road tyre pressures I attempted the rocky ledge climb. 1st attempt I chose the wrong path, backed down and chose a better path & made it up to the top with 360 views of the area round. Off again to my next point - Turkey Mountain where an old fire tower used to be but know a comms tower instead. Stopped for a quick bite to eat before heading west twds Stockyard Creek. Upon trying to reach Stockyard creek I was stopped by one of the local leasers that run cattle through the SF. He asked me what I was doing and after he was convinced that I was not out there to cause trouble we ended up having a good chat before parting ways. He informed me that I wouldn't get to where I wanted due to wet conditions still, so I bypassed and headed back towards the old Simon's Sawmill. There's a little bit of machinery & equipment around which was good to see. The next POI was not so - Concordia Lutheran College Ballon OEC Campus. This old site had been stripped bare with just the concrete pads left.
Next major POI was the fully restored Waaje Firetower and I passed through the old Barakula Township which is now mainly used for teh National Parks HQ for the area. Reached the Fire Tower and was great to see it fully restored. Quick look around and with daylight starting to run out I headed to what I hoped to be my camp for the night - old Coondarra Fire Tower site. This part of the track twds my camp turned out to take a bit longer than planned as there was a lot of fallen trees that required either removal, driving around or bush bashing a new track to get around. Luckily, I was driving an old Defender, so pin-stipes wasn't an issue. Reached my destination for the night as the sun was setting.