Hi,
This is a bit of info on my 76 series cruiser. I've previously built up a 120 series Prado as our first tourer but found it was time for a bit more grunt once we purchased a camper trailer. I have been a Toyota fan for as long as I can remember and fell in love with the 70 series a long time ago when I was driving a naturally aspirated troopy, one of the best 4WD's I've ever had. Originally I was in the market for a second hand, low km unit but as you can imagine they are really hard to come by without having done some time with a major rental company or in a mine somewhere. I've used these vehicles at work and see what they can go through, plus the high asking price for second hand really made my mind up that buying new was the better investment. The vehicle is a 2014 December plate 76 Series Landcruiser Workmate. I opted for the wagon midsize platform as it, in my opinion, is the best combination of 4WD ability, passenger requirements and touring buildability. She came stock as a rock from Toyota with the only inclusion of the tow ball. To say I'm happy with this truck is an understatement. So capable out of the box and to modify these things is a dream compared to my build-up of the Prado. With 34km on the clock, she was licensed and the mods began straight away.
As mentioned, our previous Prado was our first 4WD so I learned a lot about what mods did and didn't work for what we wanted to do when it came to touring and camping. Some mods and equipment were saved from the sale of that vehicle so they could be added to this current build. The cruiser build has had some of the mod list below added by myself and the help of my father with long hours in the shed and various workshops to transform it into how it sits as today. The aim of this build was to be as self-sufficient as possible when camping and coupled with our camper trailer.
We have been lucky enough to have lived up in north WA with allot of time spent in Broome and have had amazing areas to explore right on our doorstep. We have frequented the Cape Leveque peninsula several times a year with Middle Lagoon our notable favourite place to set up camp and venture out on day trips. Derby and the start of the Gibb River Rd (Windjana Gorge, Tunnel Creek, Geeky Gorge) through to Fitzroy Crossing were also a great weekender trip with our first completion of the Gibb River Road in its entirety a bucket list item we were lucky to have ticked off the list. We were also able to spend lazy Sunday arvos driving the local beaches like the iconic Cable Beach and Gantheaume Point for sunset bevvies and the odd BBQ. The cruiser has also taken us through the WA coastline and Coral Coast region several times with Exmouth, Coral Bay, Kalbarri, and Dampier as notable highlights. Trips to and from Perth have also taken in parts of Karijini National Park, Marble Bar, Newman through to Mt Magnet Goldfields region etc. We also enjoy the trips down to Margaret River and Prevelly to escape to some cooler weather and tackle some challenging tracks and softer beaches.
Future trips we hope to mark off the list include The Savanna Way from Broome to Cairns and for me, id want to take the Cruiser to the tip of Cape York. Ideally, though I have a niggling thought in the back of my brain that wants to upgrade the camper to a van and do the big lap for at least a year. One Powerball.........
Engine/ Driveline
Bramac brake booster upgrade
DBA T3 slotted rotors and Bendix 4WD pads
Custom 1000Nm heavy duty clutch
Eaton rear electric diff lock
Strongarm 170ltr long range fuel tank
TaipanXP oil catch can
Engine Saver low coolant level alarm
Minecorp bonnet gas strut kit
Under bonnet LED strip/ work light
Extended diff and transmission breathers
Redarc dual battery system
Couplertec electric rust resistance system
NewproTech turbo timer
Fuel Manager primary fuel filter with 12v water alarm.
Safari snorkel
Redback 3" exhaust with resonator option
ARB under bonnet compressor
DPU intercooler upgrade
The three best mods for this section that have transformed the Cruiser into a better tourer have been the brake booster and rotor upgrades for towing, the dual battery system for the fridges and gadgets plus the addition of the primary/ 2nd fuel filter for peace of mind. In saying all that though the note coming from the 3" exhaust is something you can never get enough of!
Tyres & Suspension
285/75/R16 Nitto Trail Grappler MT's on 16" Kings Terra Black rims
Ridepro 50mm suspension lift combined with EFS XTR shocks and steering dampener.
Boss triple bellows rear airbags
I opted for the 33" tyres as I think they are the sweet spot for economy and performance with the type of driving I do. They also get the speedo pretty much bang on now too. The Ridepro springs and airbags have been great since day one. I can not fault them and the triple bellows airbag design lets me level out the vehicle when towing but also doesn't restrict articulation when the Cruiser is un-hitched and aired down. I'm now on my second set of shocks after the punishment took their toll on our Gibb River Rd trip and have now opted to try out the EFS XTR's
Exterior
ARB Deluxe Bullbar
Heavy duty recovery points
VRS 12,500lb synthetic rope winch
Stedi Type X 8.5"LEspotlightsts
Stedi 48" 260w LED lightbar
ARB scrub bars and steps
TJM flare kit
Rhino Rack alloy Tradie roof rack with roof-mounted lightbar, sand flag, shovel holder, awning, Maxtrax x4, 10w rear work light and 120W solar panel.
Reverse camera
Superior Engineering radiator, diff and transfer guards
Slimline weather shields, bonnet and headlight protectors
Tinting
UHF and phone ariels
The Rhino Rack is one of my favourites here. They have the system down pat now for a light and highly versatile rack system I can pretty much add anything to. The bar work and the protection it gives goes without saying but we took it a step further by giving the running gear the best protection we could find with the Superior guards and bash plates. The 120W solar panel up top means we have all the power we need to run the two cabin fridges without a doubt when the vehicle is stopped.
Interior
Redarc Solar regulator & monitor
3500 GME UHF unit
Cargo barrier
Custom made centre console with battery monitor and accessory outlets
Department of Interior fibreglass, large, front door pockets
Street Guardian dash camera
LED interior light upgrade
Powertech 400W inverter
Dual pillar pod with VDO boost & EGT gauges
Redarc Tow Pro electric brake system
Department of Interior overhead centre roof console
Outback Solutions twin draw kit
MSA 50l drop down fridge slide
Toyota dash clock and ambient temp sensor (the most expensive clock in the world)
Rear door fold down table
Dashmat
Black Duck canvas seat covers
Waeco CF 11 centre console fridge
Sandgrabber front floor mats
Autostrada cruise control kit
Scanguage II
RAM Mount to use iPhone as GPS
Solar Screen cargo area sunshades
Without a second thought, the Waeco console fridge mod is the best thing on the entire build. Coupled with the cruise control kit and rear draws with a second larger fridge in the back, it makes those long trips a breeze.
Future Mods
Wrap around style awning.
What I have replaced/ changed
Fuel tank, trip damaged
Shocks, trip damaged
Spotlights and lightbar, trip damaged
Tyres to a mud terrain style
Thanks for reading.
Cheers,
Matt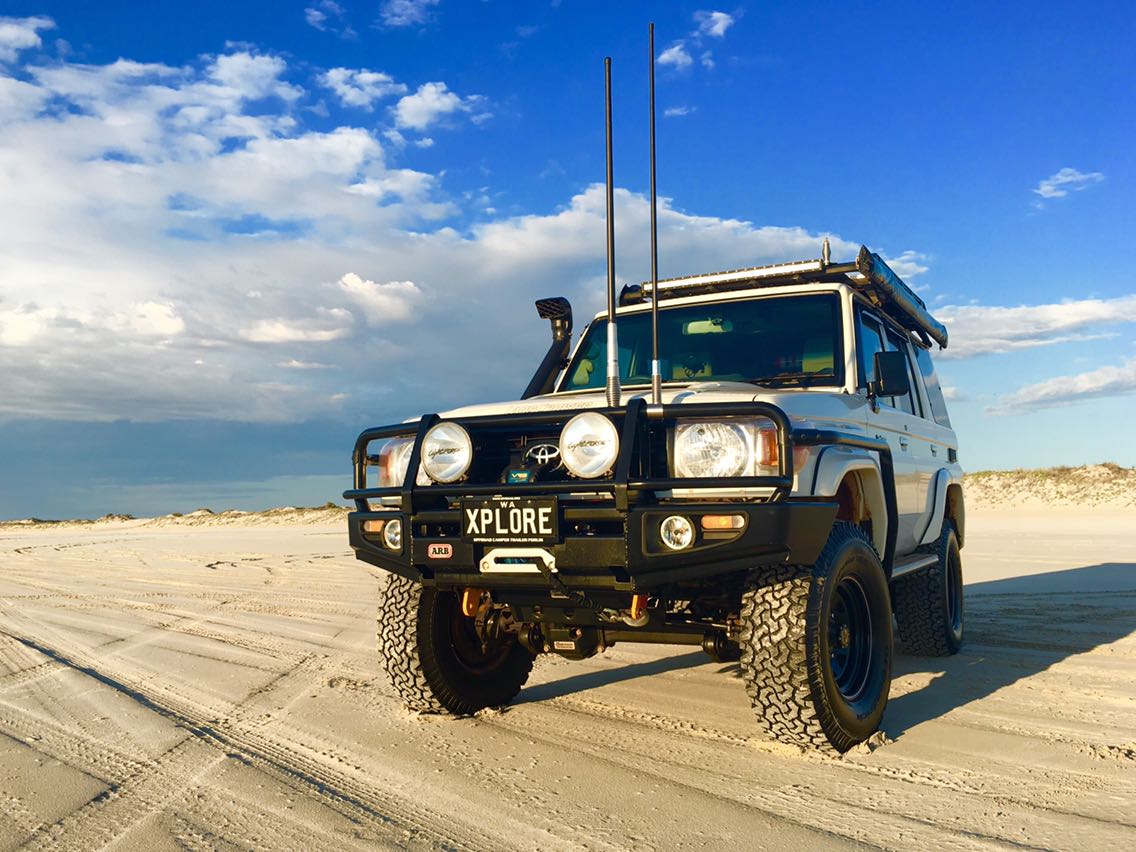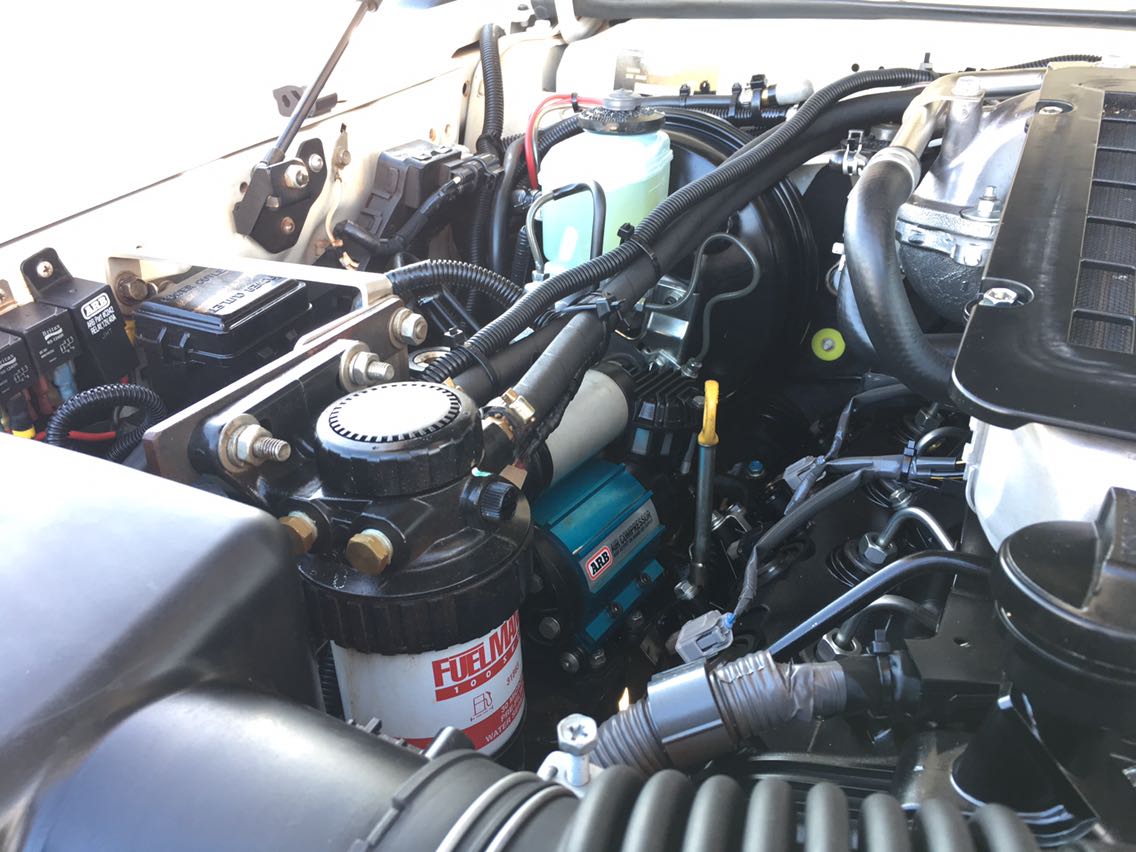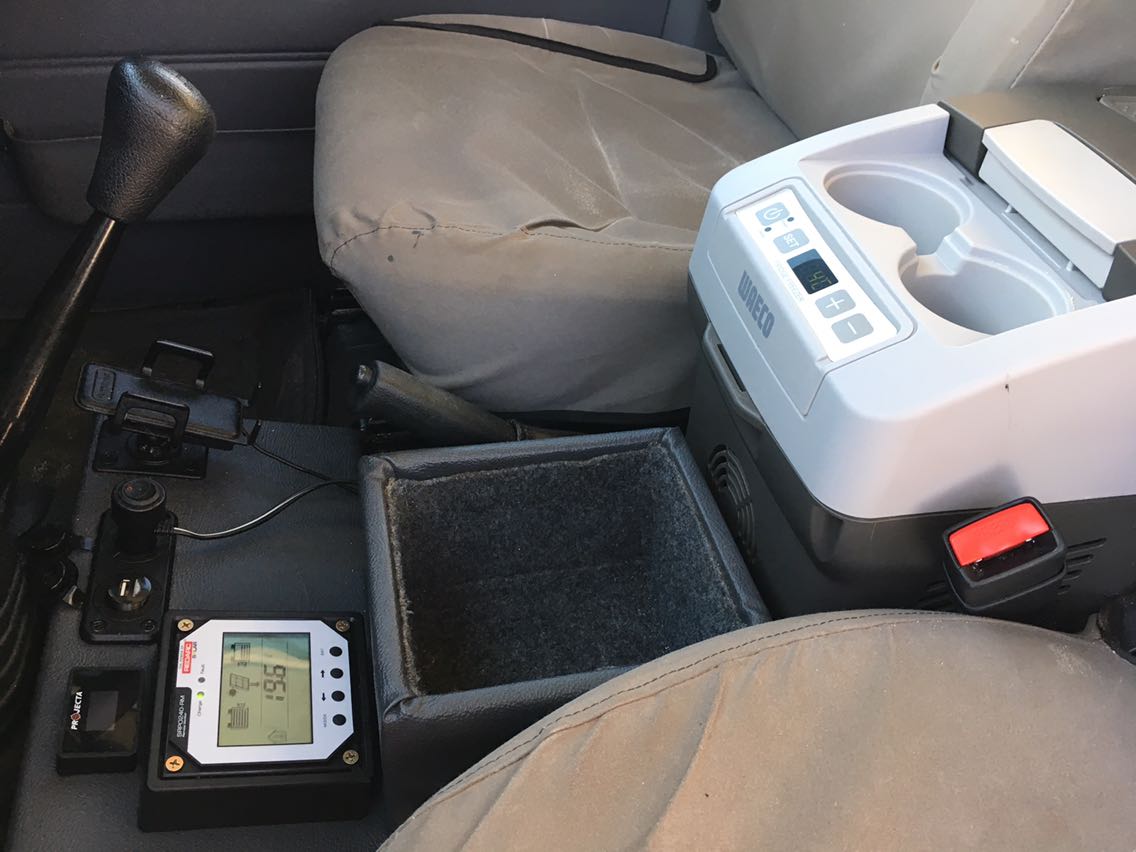 Last edited: