Hey guys and gals,
I'd been sussing out the silky vs chainsaw thread over here
https://4x4earth.com/forum/index.php?threads/silky-saw-or-chainsaw.43678/page-3#post-595912
and since I'd been hearing lots of discussion otherwise about electric/cordless chainsaws, I started doing a bit of poking about.
Since I already had (paid for myself) an ozito power x change pruner kit (mini saw and hedge trimmer on pole) I thought I'd have a look at their chainsaw skin to work with the same 18v battery.
As you may or may not know, I have a youtube channel I like to put stuff on and had done some reviews on the kit mentioned above.
Since I was pretty happy with it, I thought I'd get in touch with Ozito and ask if they'd like to supply me with one for a review.
To my surprise they got in touch pretty quick and sent me one out.
If they said no, I was going to buy one anyway since they're only 120 bucks at bunnings with a 5 year warranty.
If you prefer a video review you can see it here
Since I know some prefer a written review, I'll add some detail below.
Now I'd heard that these are a rebranded Einhell product which seems to get good wraps.
Word on the street is the red power x change Ozito stuff is a step up from their grey branded items at bunnings.
I can't speak to those 2 points, but I do have a heap of their grey tools and haven't had any probs anyway.
The saw is only a 18v, so you can't expect the power out of one that comes from a 36v 2 battery variant.
What I was really interested in was, where it sat between my silky big boy hand saw
and my little 14 inch echo petrol chainsaw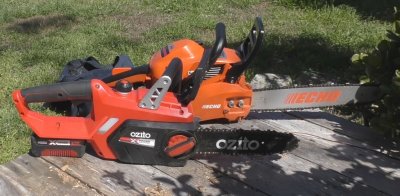 These make up my usual equipment for camping, depending on location and fire wood or track clearing needs.
I had a mate along as we were having a quick over nighter and thought it would be a good chance to test out the saw.
Specs wise it has a 10 inch bar which is easily removable (no tools) to make a smaller package for sticking in the car.
But the bar does look tiny compared to even the small bar of the echo
It's still a saw though in its own right and has requires bar oil and has a safety break mechanism.
Good stuff
lighter than a petrol saw but still heavier than expected
quieter than a petty
no petrol required
all but tool-less. a small screw driver is required for chain tightening
seems to have good battery life(4ah) probably wouldn't use a 1.5ah . plenty for a couple of nights camping (within reason) not tested to flat but I have exhausted the battery using the other tools and it lasted a good amount of time
break is quick
when you stop cutting the saw stops. so is not using fuel or power. it didn't try and vibrate away when put down
Simple to store and pack ( no petty required in the vehicle)
Bunnings after sales back up. This is a biggie in my mind
Not so good
When put down, someone (kids) may pick it up and however unlikely press the trigger. You need to either put the break on or pull the battery to be safe
Majority of the saw is plastic save for the obvious bits
not as much power as a petrol saw ( but you didn't expect it to....did you ? )
small bar but you know this going in.
As the saw body is all plastic (still feels robust) it is very easy to forget it's not a toy and could still do you harm if not handled correctly and safely.
From a power perspective, we both found this perfect for camp duties where you just don't need a big saw.
If you want big timber and in a hurry, this isn't for you.
If you lean on the saw during a cut it will bog down, so you realise pretty quickly, slow and steady wins the race.
Just back off the pressure a little and it will get there .
I did a test with both saws for speed, trying to make it as fair as possible picking wood that was near their bar length.
The pics below tells the story there
Still during our camp test, it still went through some decent sized timber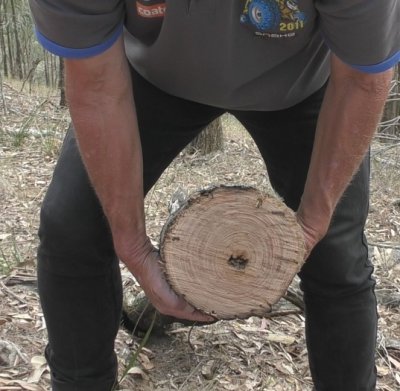 So overall, this will probably get duties from this point on for camp fire wood or just chucking in the car where I 'might' need a saw.
I found when I was considering taking a saw just in case, I often wouldn't because of the hassle with storing fuel.
No such probs here, so it will get thrown in more often now, when I otherwise might not have taken one.
The silky big boy will still be there for back up.
Since it can't be charged via 12v
I will grab another battery and a 300w inverter to keep it charged from the 120ah aux battery in the back of the Paj.
So if for the $120 bucks if you already have some of the other tools in the line, its a no brainer I reckon and I would have been happy to spend the bucks on it.
If you need to buy the battery, skin and charger you're up for around 200 if not on sale.
That makes the choice a little harder but not knowing what else is in the market, you will have to make your own judgement there.
Other than Ozito shooting this out to me, I've got no affiliation with them.
cheers Brett