O'Tooles 2017 - 10th Annual Victorian Gathering
Channel 25 for camp
There is a new competition for O'Tooles this year.
The kids (anyone under 18) can enter a cook off competition. There is a trophy for the winner. It doesn't need to be done using a camp oven, but it needs to be cooked. Entries to the committee before presentations on Saturday.
When
Thursday 16th November 2017 to Monday 20th November 2017
Some may arrive earlier and some may stay on longer.
Click Here to Register your Attendance
Where
O'Tooles Flat is a large camping area situated on Donnelly's Creek Road north of Moe, Erica, Rawson and the picturesque town of Walhalla. The campsite has a large main area more than capable of comfortably accommodating everyone. There is a large central gazebo at the campground which has an open fireplace and tank water. The gazebo provides a great central area for the gathering and a place for presentations on the Saturday evening.
The campground is bordered on two sides by Donnelly's Creek which provides water for cooking and cleaning as well as plenty of swimming holes and fishing.
4 wheel driving tracks are numerous, and start pretty much as soon as you leave the campground in any direction. These include Flats Track, White Star Track, trips up to Mount Useful with great views across the Latrobe Valley, trips into Walhalla, numerous Deep Creek Tracks and many others that cater for all levels of experience.
When driving in the campsite area please stick to the marked tracks and travel slowly. There are lots of kids running around and it keeps dust down.
Facilities and Services
- Accessible to camper trailers, some caravans and 4 wheel drive vehicles.
- Not recommended for 2 wheel drive vehicles. Conditions can change rapidly.
- There are two pit toilets in the main camping area.
- No dogs
- Water is available for cleaning, showering, portable toilets etc. from Donnelly's Creek
- The location has a number of fire pits and sets of tables and benches.
- There is a large gazebo in the centre of the campground
- There is no power at the campground.
- Closest LP Gas, Diesel and Petrol is at Moe.
- No Phone Signal at the Campground.
- AM / FM Radio Reception
What you need to Bring
- If you are going out on the drives, your own rated recovery equipment.
- All camping equipment required.
- All food and water for cooking and drinking.
- UHF radio for communication while driving.
- Anything else to be self sufficient for the duration of your stay.
All rubbish must be taken out with you. There are no rubbish bins.
Please do not dispose of metal containers, glass bottles or plastic in campfires.
Remember, if you can carry it in, you can carry it out.
We would also encourage picking up any rubbish you come across.
Please do not dispose of any rubbish in the pit toilets as this leads to them being closed and unavailable
Donations, Local Charities and Giving Back to the Local Area
All money raised from raffles, the duck race and other events goes back into the local area. To date, we have donated
over $5000.00
. A huge thanks to everyone who has contributed, either directly with donations or indirectly from buying raffle tickets, ducks, stubby holders, stickers and other 4x4 Earth gear. The local areas are thankful for the input we can provide into their communities. This is on top of the increased business we offer them.
Donations from the 10th Victorian Annual Gathering at O'Tooles 2017 will also be going back into the local area.
O'Tooles Pictures
Arrivals
Upon arrival, please make yourself known to one of the committee members. They wont be hard to find, just ask around.
Raffles etc.
A raffle will be held over the gathering with prizes drawn on Saturday evening at the Gazebo along with the trophy presentations. So far, the raffle prizes include the following,


Chris Sullivan (Chriso100) who is a Your Local Tyre Truck dealer in conjunction with Federal Couragia are donating a set of mud tyres to suit your vehicle as the major raffle prize.
Please support Chris and Your Local Tyre Truck and use him when you next need tyres.
Hema Maps are on board this year as a sponsor and will be offering a great prize for the raffle


Fyrlyt have again donated a set of Fyrlyt Spotlights for one of the raffle prizes

Wholesale Automatic Transmissions are again donating a
fantastic prize of a full service and flush
Gotya Covered Seat Covers have donated a set of seat covers to fit your vehicle
i Drive are providing a Wind Booster Throttle Control
Raffle tickets will be sold from about Tuesday or Wednesday onwards until the raffle is drawn on Saturday evening.
Sticker Competition
The 2017 sticker competition again had a number of entries. The winning sticker has had 100 copies printed off and they will be for sale for $2.00 each. All money raised will go to charity. The winner will be announced officially at the presentations on Saturday evening.
O'Tooles 2017 Events
- Several 4WD runs ranging from beginner and easy through intermediate to hard. (See the list of drives and runs below)
- A Navigational Run will take place over the weekend. Please see below for details and the entry form
- A camp oven cook off will be taking place in the period leading up to the Saturday night presentations. Please see a committee member for entry.
- The 'Duck Race' will be back on Saturday evening at 5:00 PM
- There will be 100 ducks up for sale with all money going to a local charity.
- Ducks will be made available for sale for $2.00 each from Saturday afternoon
- Trophy presentations will take place on the Saturday evening after everyone has had a chance to have dinner and return from any drives.
- A Playing Card Run will take place over the weekend. See below for details and a link to the entry form.
Warnings
- Donnelly's Creek runs along two sides of the camp and care needs to be taken with children.
- There are old mining shafts in the area.. Please be careful when walking through the bush.
- The DELWP has warned that camping under trees can be dangerous due to falling branches.
- In the event of an emergency requiring evacuation, please familiarise yourself with the
2017 Emergency Evacuation Procedures
Local Area Attractions and Places of Interest
- Walhalla is a renowned historic area well worth a visit if you have never been. Please click on the links to discover more about Walhalla.
.............
Walhalla and Mountain Rivers
.............
Walhalla and Gippsland
- Rawson is a local town situated near Walhalla and also has some local attractions.
.............
Rawson Township Home Page
- Erica has a local pub which offers great meals.
.............
Erica Pub - Link
- There are several other attractions in the area, including the White Star Water Wheel.
.............
Attractions Link
- There is fishing in the rivers around the place, remember your rod (and fishing licence).
- There are several old mines and associated relics in the general area which are also worth a visit.
Miscellaneous
Because the organised drives will be in groups, we request that everyone taking part read through the convoy procedure link taking special note of point 9 (we don't want to lose anyone in the group)
Convoy Procedures
Please do not leave any campfire unattended.
There is no mobile phone reception available at O'Tooles. The closest reception is at the top of Flats Track, about a 15 minute drive. An easier drive for reception is left onto Donnelly's Creek Road from the campsite and head to Edwards Hill, about a 35 minute drive.
Hints, Tips and Advice
Please have a look at this list. It covers some general stuff, some changes to road rules and some warnings or cautions about the O'Tooles campground and surrounding areas.
Hints Tips and Advice
Navigation Challenge

A Navigation Challenge will be held over the duration of the gathering. The course covers some 70 klms and takes in a lot of historic areas, some great tracks and views around the general area. This is not a speed race, just follow the instructions and get as many questions answered as possible to achieve a potential 80 points.
The question and direction sheets will be uploaded here immediately before the Gathering. Hard copies will be available from any of the Committee at the Gathering
CLICK HERE
for the Navigation Challenge questions.
Confirmed Attending (Registration Form Submitted)
Click Here to Register your Attendance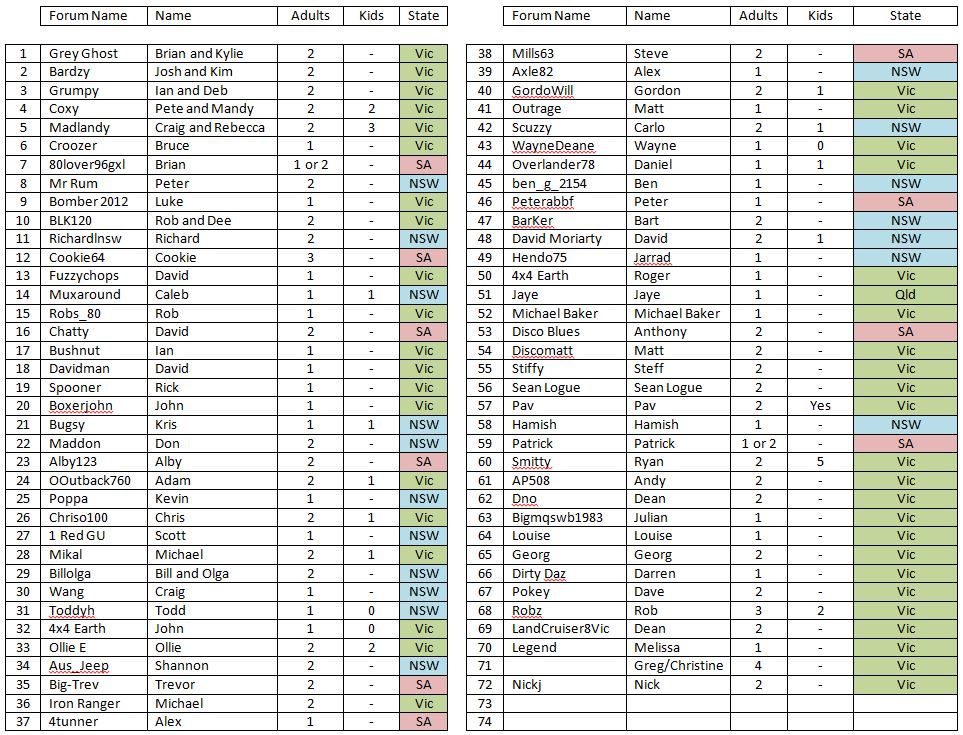 The following people have now also registered.
GlynnDeane Glynn
Yobboford Rob
4x4 Earth Ashley
Ryno_racer Ryan
2002GU3 Jim
Blue4b Tony
Gunna Col
BMOONZ Blake
Schedule of Drives and other Events
The table below shows some of the organised drives over the weekend. This list will be added to as more drives are confirmed
A Playing Card Run is being organised. There will be numerous playing cards hidden in and around the O'Tooles area. People will need to follow clues to find these cards. On Saturday evening, the person who has collected cards that have the best 'Hand' will win a prize.
CLICK HERE
for your entry into the 'Playing Card' run
A Scavenger Hunt will take place for the kids (and the big kids). You will need to find and collect items from a list with the person collecting the most items being the winner.
Trophies
There are trophies for The Duck Race,
The Navigation Run Challenge a
nd The Camp Oven Cook-off. The Duck Race Trophy is yours to keep and has your winning duck attached to the top of the trophy. The Camp Oven Cook off and
the Navrun tr
ophy will be presented, but need to be collected again for engraving. They will then be delivered back to the winners until next years trip.
.
Last edited by a moderator: